Next Big Sound released its summer report, and the focus for this season was streaming and social media. Even though Pandora purchased the music data specialist this spring, the company is still able to provide compelling insight across several streaming platforms. In fact, Next Big Sound has already tracked more than 1 trillion online plays in the first six months of the year. That covers activity from YouTube, Vevo, Vimeo, Spotify, Rdio, SoundCloud, and new owner Pandora.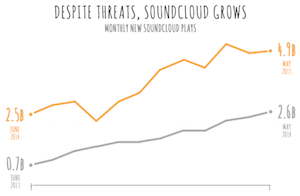 Let's start with SoundCloud, which was the subject of one of the report's more noteworthy stats. The audio platform generated 4.9 billion plays in May 2015, just about doubling its performance from last year. Given the frequent rumblings of drama about the platform's challenges in working with the major labels, that's a promising endorsement from SoundCloud's own community. As Next Big Sound notes, the big issue could be convincing those legions of free listeners that a paid service is worth their money and their ears. Whatever business model sticks, they'll likely need to retain a large number of users in order to turn a profit.
The next intriguing chart lists the top artists across three platforms: YouTube, Vevo, and SoundCloud. Rapper Drake is tops on SoundCloud, and the entire top 10 for that service demonstrates its scrappy, independent appeal. In fact, despite Drake's major success in the music business so far this year, he's only on the SoundCloud top 10. Chris Brown is the only one to appear on both SoundCloud (at No. 7) and one of the video platform lists (No. 8 for Vevo). In comparison, Taylor Swift, Rihanna, Maroon 5, Katy Perry, and Ariana Grande were all on the lists for both YouTube and Vevo.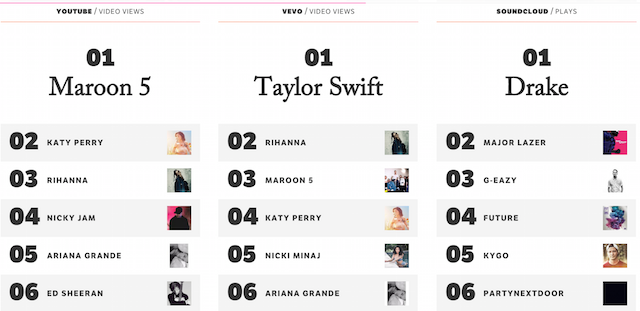 The report also examined the top artists added to the major audio streaming services. Drake was the added to the most stations on Pandora and has the most streams on Rdio. Taylor Swift held the No. 2 spot on Pandora station adds, but she doesn't appear on either of the other lists since she's chosen to keep her music off of those channels. "It is unclear whether artists with smaller fan bases would benefit from restricting access to fans of their music, depending on whatever service they choose to subscribe to (it's all about that access)," the report said.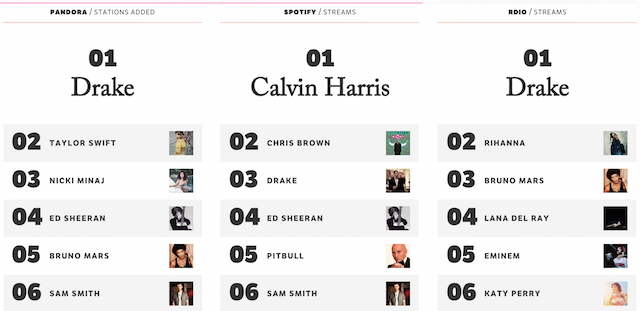 One final note from the research showed the impact popularity on the charts has on social media followings. "For the most part the top artist charts read like a who's who of pop icons, substantiating the finding that artist popularity online grows by the rule of proportionate growth," it said. "The more followers you have, the more followers you will add, making it hard to topple leading acts." Thus, as you might assume, pop queen Taylor Swift topped the Twitter and Instagram lists. Facebook showed an interesting preference for latin music artists, with reggaeton performer Nicky Jam securing the top spot.