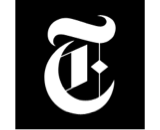 The New York Times has a deal with Spotify. New digital subscribers who buy a year of access to the newspaper for the will also get access to the premium version of the streaming service. Financial details of how the two parties will share revenue were not disclosed.
"If you think about the places where people spend their time in media, they spend a lot on music and a lot on news," said Meredith Kopit Levien, chief revenue officer for the Times. "So it made for a very positive association."
The partnership is an unusual one at first glance. The Times is a pillar of U.S. journalism while Swedish Spotify still holds onto its upstart identity even as it has grown. But the common connection for both companies is their efforts to bring a media industry into the digital age.