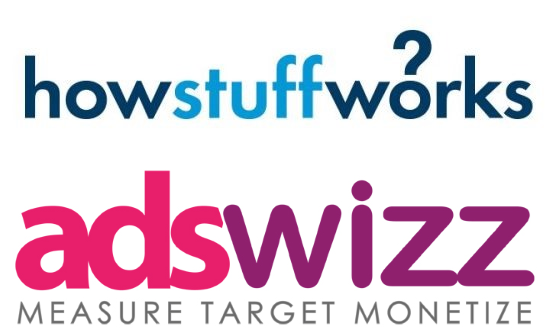 ---
Multimedia how-to publisher and podcast network HowStuffWorks is announcing today that it has selected AdsWizz to bring dynamic advertising to the HowStuffWorks podcast library and future releases. This partnership promises to double the advertising inventory in HowStuffWorks audio shows, while bringing more value to advertisers.
HowStuffWorks was founded in 1998, and produces how-to content across standard editorial, video, and audio. It produces 12 podcast franchises, which together put HowStuffWorks as the 4th-largest podcast publisher in the Podtrac ranking of Top 10 Podcast Publishers for December, and the top publishers not affiliated with public radio. The network serves 29-million downloads per month, and has totalled 650-million downloads over eight years.
The evergreen nature of its how-to library creates a startling advertising opportunity that is unmatched by more topical podcasting efforts where the interest fades over time. The HowStuffWorks podcast library contains 6,000 episodes and 3,000 hours of listening time. That scaled inventory presents a perfect laboratory for dynamic advertising that can inject today's marketing messages into evergreen content produced yesterday, or years ago.
"The podcast industry is going through a transformative moment in time," noted  Jason Hoch, Chief Content Officer at HowStuffWorks. "We now have the opportunity to provide the truly sophisticated ad serving, targeting and reporting experience that brands have come to expect on any digital platform."
That statement expresses a philosophical crux upon which the podcast advertising business is poised. Direct response advertising has held sway for years, with its clean reporting of effectiveness measured by listener visits to coded sites. Direct response marketing is executed mainly with host-read copy, often improvised, trading on a presumed trust relationship between host and listener. Over the years, that has been podcasting's key value to marketers. Selling it has required education, persuasion, and advertisers willing to educate. Uptake has mainly been in the online services market.
If podcasting is to graduate from a boutique category to a mature online media industry alongside streaming music, many brand advertisers need the efficiency of targeted ad insertion that is available in other digital media. That's where AdsWizz and HowStuffWorks intersect. AdsWizz offers a suite of products that advance audience targeting beyond the show itself, which has topical targeting. The company talks of "extending this one-to-one experience by creating and implementing unique listening experiences informed by listener information like location, content preferences or user profile."
AdsWizz CEO Alexis van de Wyer stated: "Direct response advertising has been very successful in the last few years, but we aim to expand that opportunity further and we're thrilled to partner with HowStuffWorks to bring advanced targeting, reporting and advertising format capabilities to brands, publishers and consumers alike."