Edison Research has released another factoid in advance of its Infinite Dial 2016 webinar on Thursday, and it's a landmark in the evolution of streaming audio. Half of Americans 12 years and older listened to online radio in the past week. That percentage is up from 44% last year.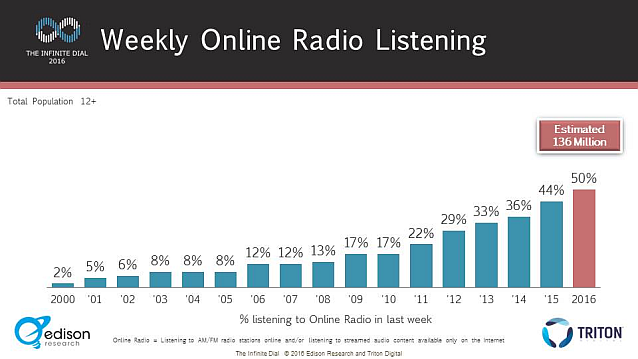 The leap to 50% weekly listening represents a 13.6% lift from last year's survey results. Last year the same survey question resulted in a 22% weekly audience growth. 2011 also saw a surge from 2010, as the weekly online radio listenership grew by 32%, possibly as a result of Spotify's U.S. launch.
"Online radio" is defined to include AM/FM radio station webcasts, and Internet-only audio listening such as Pandora or Spotify. The Infinite Dial is a long-running annual consumer survey of American listening habits, generally considered as one of the industry's most important benchmarks. The hour-long free webinar at which the 2016 results will be disclosed is Thursday, March 10, at 2:00pm Eastern time. The hosts will be Edison VP Tom Webster and John Ross from co-producer Triton Digital. Go here to register.