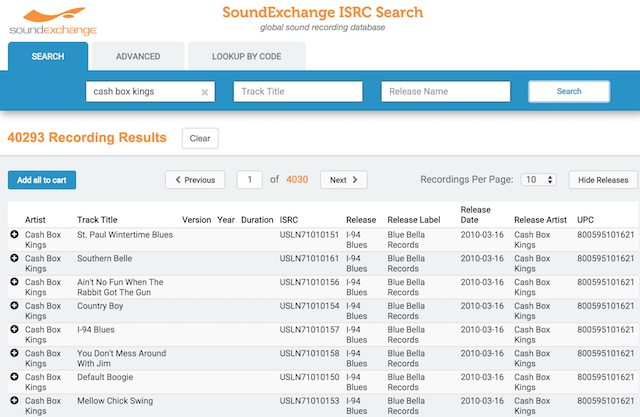 SoundExchange is launching a new tool for seeking and finding data about international standard recording codes. The SoundExchange ISRC Search Site is a free resource for exploring the roughly 20 million ISRCs reported to the industry organization. From this new database, the ISRCs can be used for tracking and reporting use of sound recordings.
"The basic problem that the ISRC site is intended to address is one of bad and/or inaccurate sound recording metadata in the marketplace," SoundExchange told RAIN News.
The base search feature allow browsing by artist name, track title, and release name. The website also has advanced search features for year of recording or specific versions, such as the radio edit or live acoustic take. Or users can search for a specific ISRC code.
SoundExchange anticipates that the database and search engine will initially appeal to small and mid-sized webcasters who don't have access to metadata feeds. The broad goal is to reduce inefficiencies and inaccuracies in royalty reporting and payment. This does not have any bearing on the much-publicized lawsuits brought by David Lowery and others against music services; those actions focus on songwriter royalties, whereas the SoundExchange ISRC Search Site is about rights ownership of sound recordings.
President and CEO Michael Huppe explained that the new tool was made to help improve efficiency in royalty processing. "The initiative will also help ensure fast, accurate identification of sound recordings, which will help music creators receive prompt, accurate and fair compensation from the digital services that use their music," SoundExchange said in its press release.