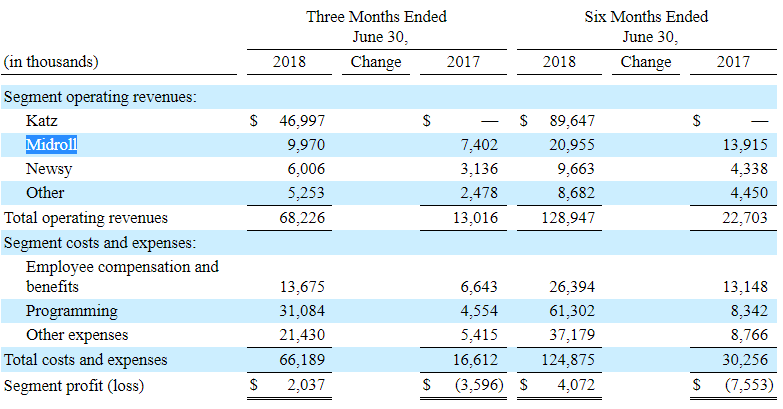 ---
Scripps-owned podcast content and advertising company Midroll Media booked $9.97-million in operating revenue in the second quarter, according to the SEC-filed 10-Q for E.W. Scripps. The company held its earnings call last week; the 10-Q was not available at that time.
The roughly $10-million revenue represents a substantial gain of 35% over last year's Q2 revenue for Midroll ($7.4-million). RAIN reported that in Q1 of this year, Midroll earned $11-million.
Midroll came up several times during last week's earnings call, as Scripps executives pinpointed the unit's performance, and investors asked questions.
Following are excerpted remarks:
"The year-to-date revenue growth and Midroll and Newsy is directly tied to the investments we're making in them. And just like scale adds value in local television businesses we're focused on building scale in these fast growing national brands." –Adam Symson, President and CEO
"We've been thrilled with Midroll and Stitcher's revenue performance growing 50% year-to-date." –Laura Tomlin, SVP, National Media
"As the podcast marketplace continues to grow, others are catching on to what we already knew, that consumer engagement with podcast is accelerating and advertisers are following. Fortunately Midroll is well established with advertisers and is positioned to grow aggressively along with the industry. Several of our blue chip advertisers including Procter & Gamble and Coca Cola place new ad buys with us in the second quarter. We're seeing an influx of new brands as well as strong renewal activity." –Laura Tomlin, SVP, National Media
"Freakonomics is getting more than 12 million downloads per month and consistently ranks as a top performing show. This show also offers content that is only available to our premium subscribers. The subscription business is growing rapidly and we continue to learn what content appeals to our listeners and deliver that content to them." –Laura Tomlin, SVP, National Media
"Midroll is performing really well. I mean if you look at our growth 35% over last year, we're in an industry that is growing immensely and so we're going to continue to invest now to capture growth for the long-term and really create value for the enterprise." –Laura Tomlin, SVP, National Media