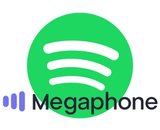 Spotify-owned podcast publisher and ad-tech platform Megaphone has signed The Weather Network in Canada. This deal brings The Weather Network's flagship podcast, This Day in Weather History onto the platform. (As a point of interest, the podcast tells us that on July 7, 1943, the U.S. Air Force piloted the first-ever airplane into the eye of a hurricane.)
Megaphone is the backbone of Spotify's Audience Network, an audio-first advertising marketplace. Spotify launched this network in February of this year, enabling advertisers of all sizes to reach listeners to Megaphone-published podcasts which have opted into the program.
"We're thrilled to have signed on with Megaphone because it will enable us to offer clear, data-driven digital audio advertising opportunities to our partners while reaching a wider audience with our podcast and growing our listener base," said Peter Bozinov, Director of Multi-platform Video & Editorial from The Weather Network. "Weather is a fascinating subject to Canadians, and we are continuing to explore diverse content formats, such as audio, to promote engagement with weather stories."
The press release for this deal notes that time spent with digital audio is surpassing traditional broadcast radio in Canada, and that one in three Canadian internet users listen to podcasts.
"As podcast consumption continues to take off, we are working hard to create innovative solutions to help publishers like 'The Weather Network' here in Canada monetize their work," said Brendan Monaghan, Head of Podcast Publishing at Spotify. "The Weather Network signing on as publisher in Canada highlights the excitement and momentum among brands to tap into our best-in-class tools across both Megaphone and the Spotify Audience Network."
.