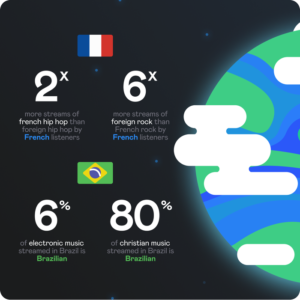 We notice that Deezer is promoting its Deezer for Creators toolset. It offers metrics related to track plays and demographic info about listeners, as well as features that enable public sharing of the information.
There are two gateways to Creator metrics: Musicians and Podcasters. The company describes the program as "a mobile & desktop creators' destination for artists, managers and podcasters that provides analytical performance data based on how fans and listeners engage with music and podcasts for in-depth insight into their streams."
One of the promoted benefits is connecting streaming performance, such as an uptick in listening, with some kind of promotional effort like a social media campaign.
Deezer also evangelizes the importance of timing releases around what the metrics tell creators about when their fans listen — weekends, for example.
Artists can  also get a better sense of fan geography, as the tool can identify pockets of listening by region.