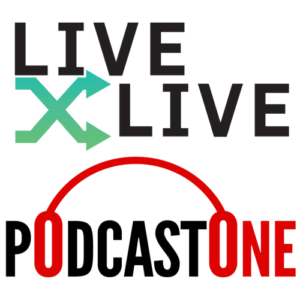 Today's headline news that online music service LiveXLive will acquire pioneering podcast network PodcastOne shines new light on both companies and raises their profiles. It is the latest in a category consolidation that is mashing up podcast networks with related — but different — new parent companies.
PodcastOne is well known to RAIN readers, and its founder, Norm Pattiz, has spoken at multiple RAIN Summit events. The PodcastOne brand does not appear in monthly publisher rankings from Podtrac and Triton Digital, presumably because the company is not a client of either measurement firm. PodcastOne claims 2.1-billion downloads per year, which averages to 175-million a month — that would put it into the #3 spot in Podtrac's April ranking, released today.
If the PodcastOne brand flies under the radar of highly publicized rankers, it flies above the norm (unintentional pun) in celebrity talent. the company's talent procurement has focused on L.A. celebrities from the start. Adam Carolla (one of the most successful podcasters in the world), Shaquille O'Neal, Steve Austin, Kaitlyn Bristowe, and many more illuminate the talent roster.
LiveXLive is likewise a glittering service which merges some aspects of a typical online music streamer with a focus on live concert videos. On that basis, the merger seems like a compatible fit. The deal is a definite profile-raising event for LiveXLive, whose strategy can now feasibly be compared to Spotify's podcast network grabs — Gimlet Media, Anchor, Parcast. In both cases, the defining thrust is definitional, growing the brand definition from "music service" to "audio service." Along the way, each company gains economically by owning popular content outright, chiseling away at the financial load of music-label royalties — if the companies can push user time to podcasts.
"LiveXLive expects the acquisition to be accretive, strengthen its balance sheet and diversify its business model with significant advertising component." -LiveXLive
Here is a statement that described an anticipated synergy of the two companies:
"Both companies are headquartered in Los Angeles, CA and planned consolidation of teams is anticipated to generate cost synergies and combine back-end support and office locations. Moreover, LiveXLive has plans to integrate PodcastOne into its music platform, offering current and new subscribers more unique and original programming. PodcastOne will also bring an experienced advertising sales team, tripling the size of the current LiveXLive sales team, as well as an established roster of major national brand advertisers and new distribution channels."