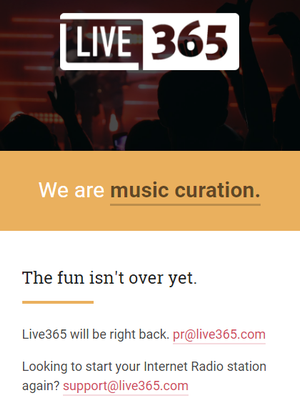 RAIN News has learned that Live365, the internet radio host which catastrophically unplugged its service in January, has resurfaced and is planning to re-open.
After being tipped that the Live365 website showed signs of life, we received this confirmation: "The Live365 assets have been acquired and we will make an official announcement in the coming weeks. We are still finalizing plans."
The re-emergence of a mainstay resource for internet radio stations will come as a shock of good news to small webcasters which have struggled to survive since January, or which have not survived. But the news is full of yet-unanswered questions.
Foremost in those questions is whether Live365 will operate essentially the same business it did since first opening in 1999. The platform provided a technology platform which enabled thousands of webcasters (pureplay and broadcast) to create and maintain internet radio streams. The business was threatened last December when the U.S. Copyright Royalty Board (CRB established new, higher music royalty rates for webcasters, while at the same time a special bill which protected low-revenue webcasters from rising rates expired.
Live365 eliminated its staff and vacated its office in December, and shut down the service entirely in January. The impact of Live365's exit was tectonic. An uncountable number of stations shut down, reducing the variety and specialty programming that had flourished online. Our coverage of the CRB ruling and its fallout was the most viewed topic in the history of RAIN News, and this site's specific coverage of Live365's demise produced the most-read articles ever on RAIN News.
The top-of-mind question for many small webcasters, both those which have been silent and others which have moved to other platforms like Radionomy and StreamLicensing, is whether Live365 will institute a plan which pays the royalties for webcasters. That business plan is normally accomplished by selling digital audio advertising across the total inventory of all hosted stations, making enough revenue at scale to handle the royalty payments. But the expiration of the protective legislation for small webcasters makes the business generally daunting in the new CRB era, even for the highest-scale businesses like Pandora. Both Radionomy and StreamLicensing have placed restrictions on certain types of streaming to manage costs.
At least, the surprising rise of Live365 signals that there might be a more hopeful future for small webcasting generally than many have thought.
(This article was assisted by Ed Tankus, of Blue Plate Radio.)