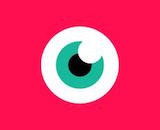 Another app has elbowed its way into the space for live video. The new entrant is live.ly, a new program from the team behind musical.ly, a social music video platform powered by 7digital. Musical.ly has reportedly been downloaded more than 100 million times since its launch last year, and live.ly is currently at No. 1 on the App Store's photo and video chart.
Although live.ly is the top of the heap today, several other tech companies are also working to secure their share of the mobile live video market. YouTube announced that its mobile app will soon support mobile livestreaming, while Facebook Live and Twitter's Periscope are also incorporating video with a social angle.
Live video has become a popular niche for the coveted teen and millennial demographics. But given how much each of these services relies on engagement with others, it may be a challenge for all the current players in the market to stay afloat. One or two will probably emerge as the top choices, as a fractured market will keep some from having enough users to continue operating.