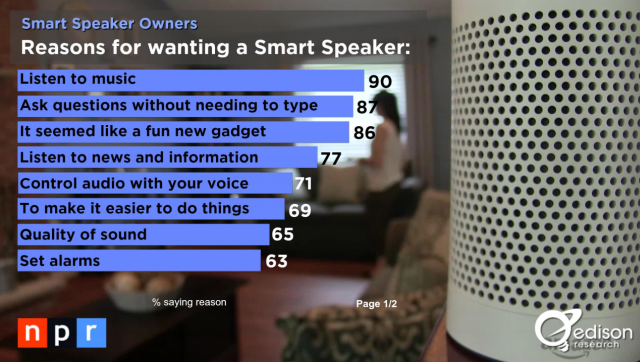 ---
The breakthrough research report on smart speakers, The Smart Audio Report from NPR and Edison Research, is released today after the free webinar presentation yesterday. National Public Media (NPM), which commissioned the consumer survey study, is hosting the distribution of data slides. (GO HERE.)
The research was originally presented at the RAIN Podcast Business Summit on June 21, of which NPR was the presenting sponsor.
A key finding for audio is that "Listen to music" is the number-one reasons for wanting a smart speakers, with 90% of respondents claiming that use. Listening to news and information also ranked highly, triggering a response fro 77% of consumers in the study.
"Hearing better music than on AM/FM radio" generated a 62% response. Listening to podcasts? Forty percent of respondents cited that reason for owning a voice-activated speaker.
How do these "reasons for wanting" translate to usage in the home? Playing music remains the top use, with 68% claiming that's what they use Amazon Echoes, Dots, and Google Homes for.
Time spent listening is represented in the report also. Music gets an average of four hours, 15 minutes per week, and podcasts an average of one hour, 22 minutes.
The survey was wide-ranging, with much more granular information than can be reported here. the PDF is freely available from this page.