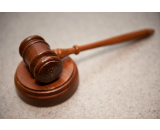 The Department of Justice is appealing a September decision by federal judge Louis Stanton which contradicted the DOJ on the issue of fractional licensing. The DoJ filed a brief with the U.S. Court of Appeals for the Second Circuit, an action it had been planning to take for months.
The Department of Justice's August ruling said that consent decrees for performing rights organizations must have full-works licensing. This policy is for compositions with multiple songwriters. Full-works licensing would, in select cases, allow individual authors to license the entire work rather than requiring separate licenses from each songwriter. Judge Louis Stanton, BMI's rate court judge, determined that the company's consent decree "neither bars fractional licensing nor requires full-work licensing."
In November, the DoJ said it would appeal Stanton's decision in an effort to move forward with full-works licensing. Today was the deadline for the Department to file the appeal. The changing administration in the White House sparked a delay to the DoJ filing its appeal.
Both BMI and ASCAP have criticized the change. "The DOJ's 100 percent licensing position, an entirely new interpretation never raised by the Department before, unfairly advantages music users at the expense of the American songwriter and upends a longstanding industry practice that has worked effectively for decades," BMI CEO and President Mike O'Neill said following the appeal. "We believe Judge Stanton's decision is correct and look forward to vigorously defending our position in the Court of Appeals for the Second Circuit."