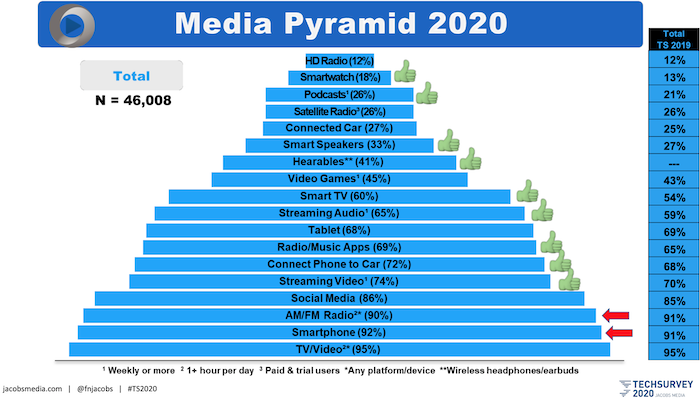 Jacobs Media has released the results for its annual survey into radio and media. The 2020 Techsurvey had 504 commercial radio stations in the U.S. and Canada participating. Most of the roughly 46,000 respondents are members of statio databases. Responses were collected online with interview dates of Jan. 7-Feb. 9.
Building the pyramids
The Techsurvey 2020 has TV/video at the top of its media pyramid, with the segment holding steady at a 95% share of audiences tuning in at least an hour a day. Smartphones edged up to 92% from 91% last year, while AM/FM radio daily use edged down from 91% to 90%. Connecting phones to cars had 72% of responses, up from 68%. Radio and music apps also grew from 65% to 69%. Weekly audio streaming jumped from 59% to 65%. Smart speakers rose to 33%, and weekly podcast listening reached 26%.
AM/FM radio topped the Techsurvey brand pyramid for another year with 90%, down slightly from 91%. YouTube took a dip, falling from 48% to 41%. Pandora was the top-ranked audio brand, with a 21% share of responses. Spotify was 16%, lifting from 12% in 2019. iHeartRadio and TuneIn were the lowest-ranked brands in the assessment, with tiny dips from their year-ago results.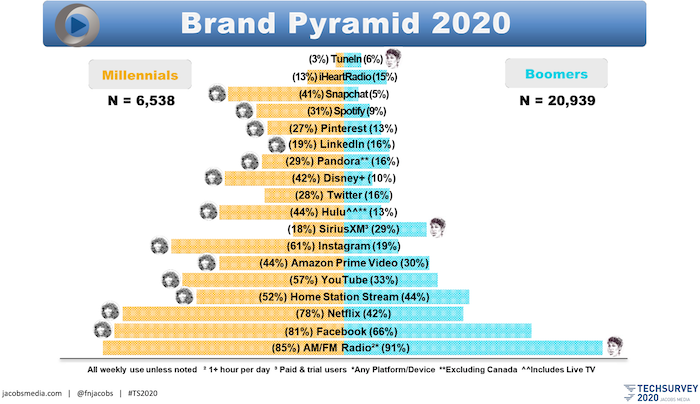 The results included brand results by age bracket, which showed deep divides in media use. Millennials reported much higher percentages for many digital platforms, while boomers only had a lead in radio and radio-inspired brands. That bore out clearly in the audio brands. AM/FM radio, Sirius XM, iHeartRadio, and TuneIn yielded higher figures for boomers. In contrast, Pandora and Spotify showed huge trends toward younger listeners. Pandora saw 29% for millennials and 16% for boomers, while Spotify's results were 31% with millennials and just 9% for boomers.
Radio gets results
When radio users were asked why they tuned in, the top response was "easiest to listen to in car" with 69%. Free access came next with 62%. The results showed a heavy favoring of local content and connections.
Radio listeners are largely listening to AM/FM radio in their vehicles, with 44% saying that's where they tune in. Just under a quarter (21%) listen at home, work or school. Digital sources were responsible for 32% of the responses. Computer streams took 18% of the responses, while mobile apps had 7% and smart speakers had 5%.
Podcast popularity rises, but still has skeptics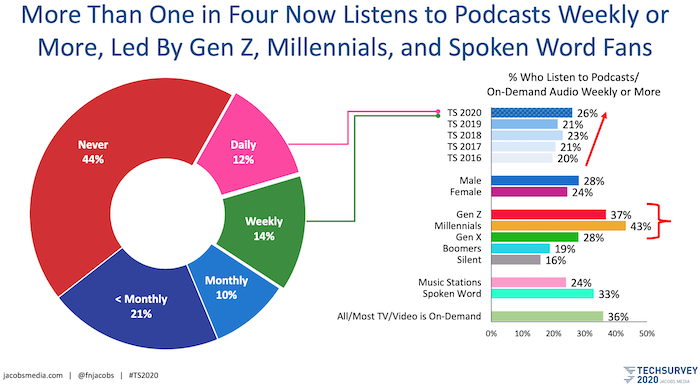 Jacobs Media found that a quarter of its respondents are listening to podcasts at least weekly. Fourteen percent classified themselves as weekly listeners, and 12% as daily. That 26% weekly or more group grew from 21% in 2019. The weekly group was led by younger listeners, with 37% of Gen Z respondents and 43% of millennials falling under that umbrella.
Within that weekly cohort, 41% said they are listening to more podcasts than they did last year. The figure was 40% in the 2019 Techsurvey and 32% in the 2018 results. Again, millennials are the top demographic in that shift, with 48% listening more. Both Gen Z and women were close behind, each at 43%, while Gen X had 42%.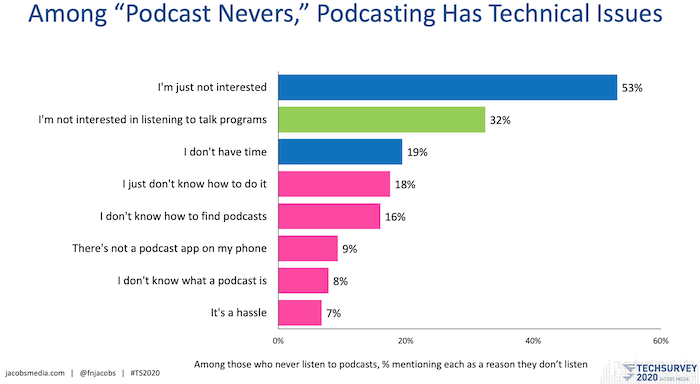 Nearly half (44%) said they have never listened to a podcast. This group of "podcast nevers" had a long list of reasons why they haven't bothered, covering both disinterest and technical hurdles. A variant on lack of interest was the top response at 53% and the second response at 32% when asked why these people haven't tried a podcast. A range of issues about access and discovery filled the lower tier of responses.
Streaming audio growth pushed by younger listeners
Streaming audio also saw improved results in this year's survey. Almost half (46%) of the respondents listen to streaming audio daily, and 19% are weekly listeners. As shown in the brand pyramid age break-down, younger listeners are again the biggest drivers of frequent streaming.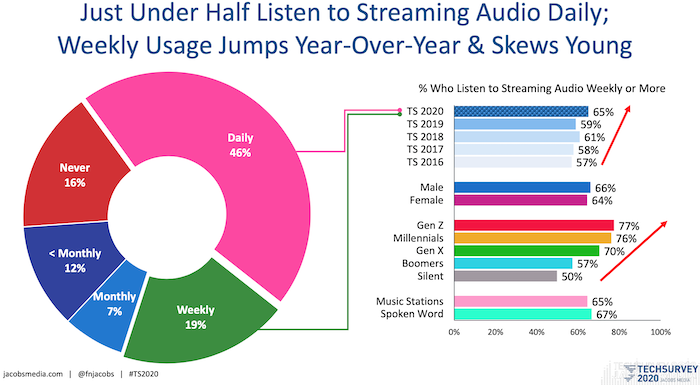 About two-thirds (60%) of the Techsurvey audience said they have an audio subscription. A third had just one, while 27% have two or more. Amazon Prime Music was the leading subscription by a large margin, taking 40% over Spotify Premium's 16%. Apple Music was the only other brand with double-digits here, taking 12%.
Smart speakers take hold, win fans
Finally the survey saw growth with smart speakers, with 33% of the 2020 respondents owning a device. The people who do adopt voice-controlled technology seem to be leaning hard into the segment; the proportion of smart speaker owners with two or more devices grew from 42% in 2018 to 49% in 2019 and now to 56%.
Listening to streaming audio service is the top use for the hardware, with 39%. AM/FM radio is less popular, but still secured a 27% share. Most Techsurvey respondents didn't find that they changed their level of AM/FM radio listening after acquiring a smart speaker. Only 21% reported listening more after the purchase.
As with the "podcast nevers," the audience who doesn't own a smart speaker is mostly just not interested. Thirty-six percent said they have no use for one, and 32% said they had privacy concerns about the hardware.