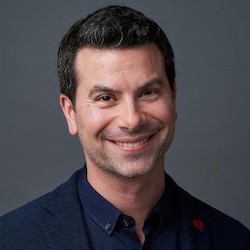 Pocket Casts, the podcast app owned by a group of public media operations, is having a change of the guard. CEO Owen Grover (pictured) is leaving to pursue other opportunities. Matt Moog, a member of the board of directors, has been appointed as Pocket Casts' new executive chairman and interim lead.
Moog was most recently CEO of PowerReviews. He is an active angel investor, and has founded and scaled several ventures. He has been on the board for Chicago Public Media for 11 years, including a recent stint as its chairman.
Pocket Casts was acquired by NPR, WNYC Studios, WBEZ Chicago, and This American Life in May 2018. BBC Studios joined the group as an investor earlier in March.