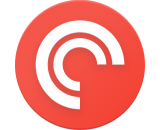 Podcasting app Pocket Casts got a new investor today. It now counts BBC Studios as a fundraising partner. Pocket Casts was acquired by public media quartet of NPR, WNYC Studios, WBEZ Chicago, and This American Life in May 2018. The company said that today's announcement means that it is growing its international reach and further committing to its focus on independent voices and a rich listening experience.
"This new partnership with BBC Studios enables Pocket Casts to further our goal of creating the world's best podcasting platform, for both listeners and publishers," Pocket Casts CEO Owen Grover said. "We're committed to an open ecosystem, one that supports independent storytelling, while providing a robust, beautifully designed experience for global podcast fans. With public media's influence behind us, we feel a deep and abiding obligation to grow the medium."
"Pocket Casts is the perfect partner for BBC Studios given they're recognized as a market leading platform and loved by audiences," said Nigel Gaines, interim president for BBC Studios – Americas. "We look forward to being part of Pocket Casts' next phase of growth, which will further enable audiences to find the best podcast content."
BBC Studios is a commercial subsidiary of the BBC that formed in April 2018. It has production bases around the world and its audio programming includes The Global News Podcast from BBC World Service and Have You Heard George's Podcast? from BBC Sounds.