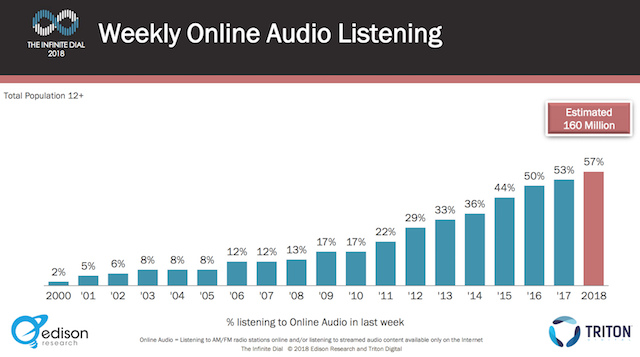 The Infinite Dial 2018 shows steady growth in online audio. The latest installment of the research project found that 64% of survey respondents, or an estimated 180 million people, listened to online audio in the past month. That figure has grown at a steady rate in recent years, from 61% in 2017 and 57% in 2016.
Weekly online audio listening has risen at an even more dramatic clip. It had a 57% rate in 2018, up from 53% in 2017 and 50% in 2016. An estimated 160 million people are consuming online audio each week.
The average time spent listening for the weekly audio audience was 13 hours, 40 minutes in 2018. The result is the second highest amount to date, dropping slightly from the 14 hours, 39 minutes reported in 2017. In presenting this metric in the Infinite Dial Webinar today, John Rosso noted that the time-spent reduction (about an hour per week on average) is compensated by the greater number of listeners. So it is greater reach balancing less time spent.
The research also showed a steady rise in people listening to online audio in cars. Participants were asked, "Have you ever listened to Internet Audio in a car by listening to the stream from a cell phone that you have connected to a car audio system?" In 2018, 44% said yes. The percentage has risen every year since 2010.