Near the top of yesterday's earnings call hosted by Clear Channel Outdoor Holdings, VP of Investor Relations Eileen McLaughlin said: "Please note that we will not be able to answer any questions on iHeartMedia's operations or its bankruptcy process." A bit later, CFO Rich Bressler said a few words about iHeartMedia: "We continue moving through the bankruptcy process, as quickly as possible and look forward to exiting with the capital structure that matches iHeartMedia's impressive operating business." (iHeartMedia entered its bankruptcy proceeding in March. RAIN News also reported that Liberty Media is sniffing around a possible future investment or acquisition.)
So any glimpse into iHM's Q1 business must be gleaned from the 10-Q regulatory filing. There, we can see that year-over-year (Q1 2018 compared to Q1 2017), the media empire has lost a bit of top-line revenue (-1.7%) against nearly equal operating expenses (-0.9%).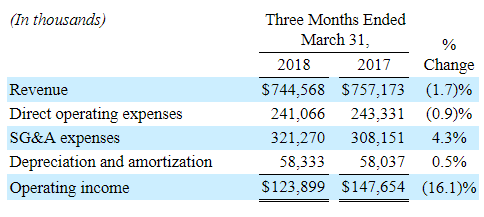 The filing notes that national and spot revenue was lower, while digital subscription revenue from iHeartRadio moved upward. iHR launched its two subscription plans (Plus for $5/month and All Access for $10/month) in early January, 2017, making a natural year-over-year Q1 comparison. Unfortunately no details about audience size, or dollars, is in the 10-Q.
About the slip in spot revenue, the filing says this: "The decrease in national revenue was primarily driven by lower national traffic and weather revenue. Local revenue decreased as a result of lower spot revenue, partially offset by local trade and barter."
That formula (lower radio revenue offset by higher digital subscription revenue, was reversed in the line for operating expenses. There, radio costs went down and "digital fees" went up. "iHM direct operating expenses decreased $2.3 million during the three months ended March 31, 2018 compared to the same period of 2017 primarily driven by lower talent and programming costs, partially offset by an increase in digital fees, driven by our iHeartRadio on-demand service."