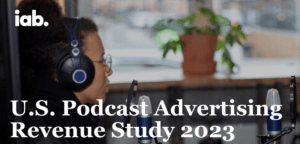 Podcast advertising is growing and maturing fast. Accordingly, the IAB has published its first supplemental half-year update of its annual Podcast Advertising Revenue Study franchise.
This mid-cycle addition follows the regular 2022 edition released in May 2023 (RAIN coverage HERE)." It is titled "U.S. Podcast Advertising Revenue Study 2023" — which could lead to some naming confusion next spring when we would expect a report with that title.
Nonetheless interesting for that, this new bulletin (co-produced as always with PwC), sets out two executive summary points with detail:
Podcasting is Adopting Practices Prevalent in Other Digital Channels
As the majority of podcast ad revenues shift from direct response to brand building (revenue share:
48% in 2021 to 61% in 2023), it is evident that the channel can deliver on buyer KPIs across the funnel.
Meeting buyers' needs for agile ad delivery, dynamic ad insertion (DAI) now represents more than 90%
of ad revenues as its share has nearly doubled in the last 3 years.
As publishers recognize buyer demand for brand safety and suitability solutions, usage has nearly
doubled YoY (brand safety: 44% to 69%; brand suitability: 33% to 62%).
For Continued Ad Revenue Growth, Areas of Opportunity Need to be Addressed
Although programmatic has shown significant growth (+5x from 2021 to 2023), its share of podcast
revenue lags far behind that of other digital media channels (11% vs. 87%)*.
Podcast ad inventory remains largely show-specific, with sophisticated, audience-based buys used
heavily in other media channels only at ~25% share YoY.
With video-enabled podcasts representing less than 10% of revenues, there is a clear opportunity to
expand engagement from sound to sight.
We learn that podcasting grew more than twice as fast as total internet ad revenue — a remarkable metric. The IAB projects estimated dollar and percentage growth through the next few years, leading up to an estimated $4-billion in 2025: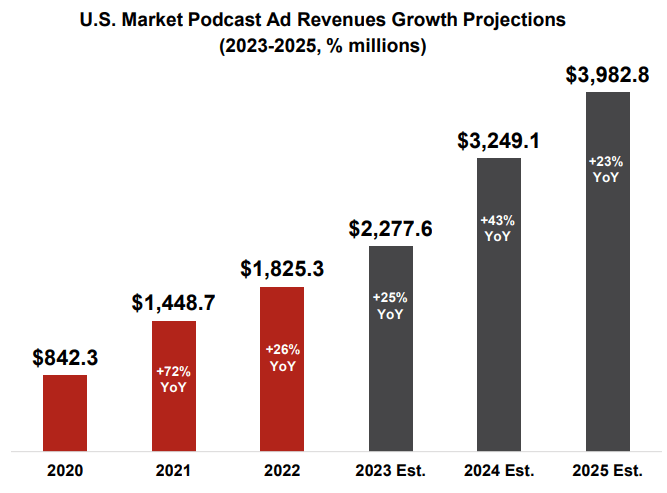 The report emphasizes an important shift: The majority of ad revenue is shifting from direct response (typically, host-read ad copy with a measurable call to action) to brand building (measuring subjective indicators like brand recall, awareness, and intent). That evolutionary shift is charted out like this:
Alongside this trend, naturally enough, dynamically inserted ads (DAI) have accomplished a near-total takeover as baked-in ads nearly disappear: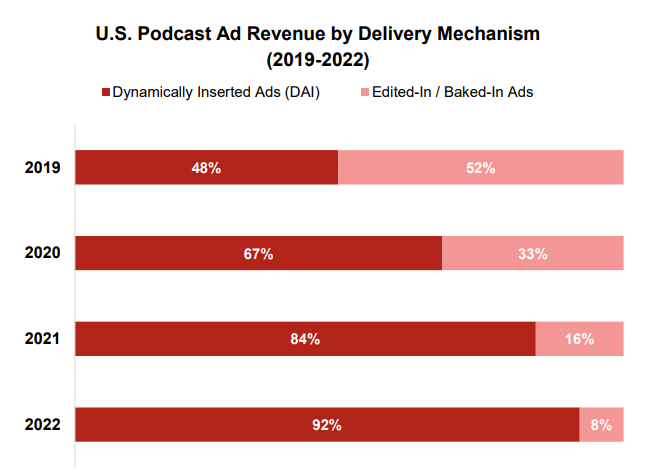 The report contains more data about the evolutionary shift toward brand safety and suitability tactics, toward which podcast ad buyers are trending. The information includes trending publisher-adopted solutions for campaign customizing.
Moving to traditional targeting types such as geo-targeting, content genre, and audience demo, we see an interesting mix of execution and planning on the buyer side: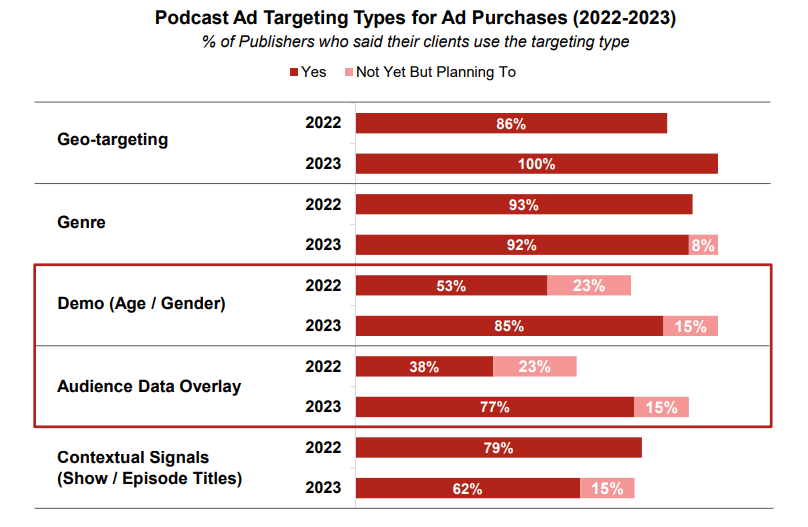 Along with all this, not unexpectedly, "Buyers are increasingly using a wide range of measurement solutions commonly used with other digital channels," according to the IAB. It is part of an overall maturation of the channel.
Part 2 coverage of this important and extensive research to come.
---