Last week we reviewed the IAB's Podcast Advertising Revenue Study, a mid-cycle supplement to the annual report which comes out each spring. In that post (HERE), we covered the first half of this detailed and authoritative study. Here, we explore IAB research of different podcast revenue markets, and recommendations for development.
Three main data discoveries prevail in this second report:
Programmatic podcast advertising is growing, but lagging the broader digital ad market (by a lot).
Show-specific buying still dominates, unlike other channels which rely on audience-based buying.
Video podcasting represents less than 10% of overall revenue.
The IAB shows programmatic advertising to have leaped by more than 100% from 2022 to (predicted) 2023, but still at a comparatively low level: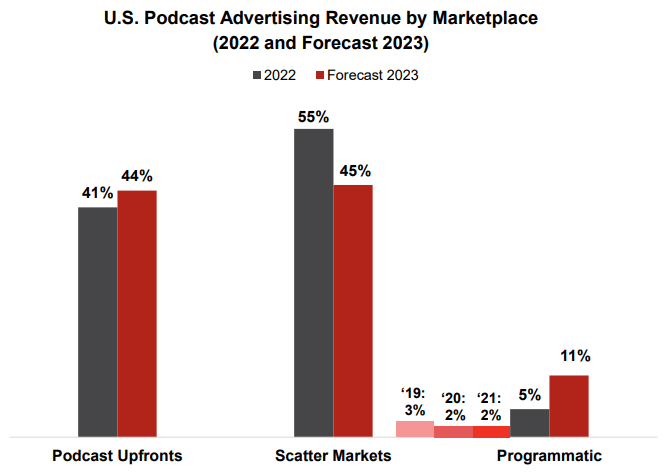 On the question of selling ads per-show, contrasted with audience-based sales, this study shows the non-audience trend deepening, contrary to IAB recommendation. Put plainly, advertisers are being sold shows, not audience characteristics. We see (below) that the trend is even increasing a bit in 2023: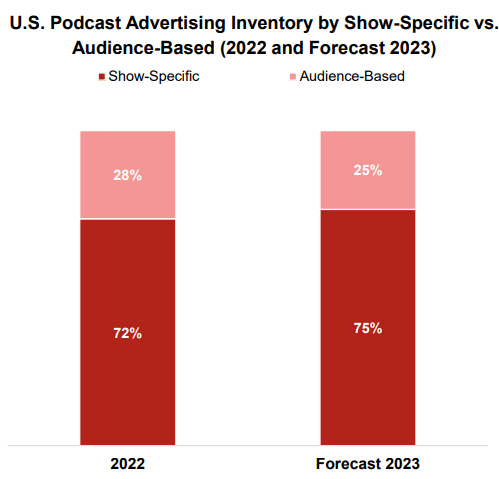 On the matter of video podcasts, despite years of data guidance that podcasters should distribute to YouTube, the money doesn't appear to be following. The chart below shows increasing (and near-total) reliance on audio buy-in from advertisers: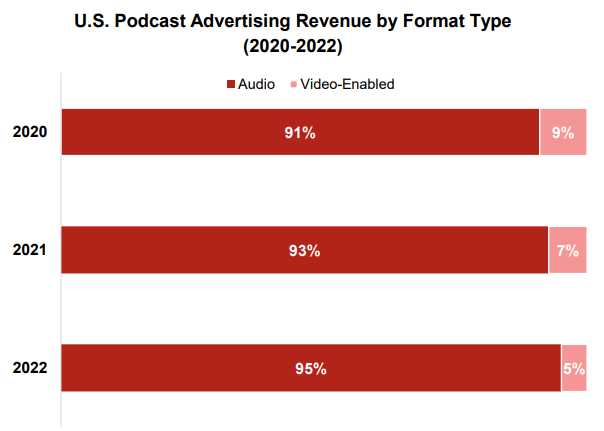 Given these trend call-outs, we are not surprised to see the IAB's main summary points:
Scale Programmatic
Pivot to Audience Buying
Expand to Video
The IAB also notes that Generative AI (GAI) is in early-adoption mode, as only one-third of podcast publishers have plans for it. It's "a growth opportunity for the channel" the report observes, and also describes risks.
Part 1 and Part 2 of our coverage is not comprehensive, and readers are encouraged to download the report directly, HERE.
---