Media giant Audacy has released a "State of Audio" PDF presentation called "Level Up." It evangelizes the benefits, formats, and best practices of audio advertising, and fashions itself a "Modern Blueprint."
Divided into chapters, the infographic establishes "Audio's Moment."
Radio beats TV, Audacy asserts, citing Nielsen numbers. "Audio is the #1 reach medium and continues to widen the gap over TV." Edison Research is brought in to reinforce the message with its Share of Ear study, which establishes that AM/FM radio owns 66% of time spent listening to ad-supported audio.
Reach is one aspect, and advertising effectiveness is another. This study shows online listening (both streaming radio and podcasting) outperforms all other media channels (TV, social media, and video). The key metric here is conversion — the extent to which advertising drives purchase.
This guide offers what it calls a "next-gen approach" to audio advertising, which is the rationale for the "Level Up" theme. A key aspect is attention as a metric; "Marketers are paying greater attention … to attention," the presentation asserts. "While reach and cost of ads are well-known, understanding their impact among distracted consumers is the real game-changer." And the key finding, taken from a Dentsu Norm study, is that audio drives more attention than TV and digital.
The overall pitch to advertisers is: "Maximizing Revenue by Maximizing Audio," and the rationale is that audio matches performance with efficiency. Citing the Neustar Meta-Analysis of Audio Performance, 2023, Audacy portrays a potent boost in sales.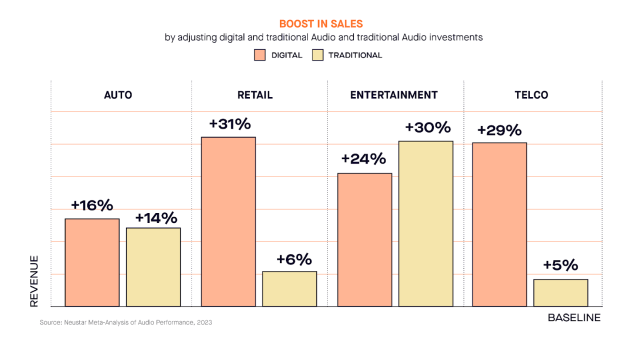 Audacy's presentation continues with sections on different types of audio executions, case studies (including a whopping 1,000% return on ad spend for Live Nation's audio advertising), blueprints for creating effective audio ads, the importance of sound design (with audio links), sonic branding, production and scripting advice, and sections on podcasts, AI, and Gen Z.
The 25-page PDF is freely available HERE.