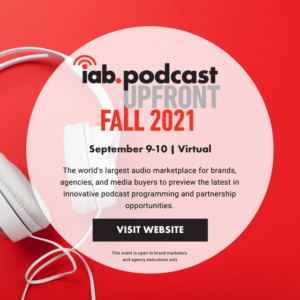 As we noted a few weeks ago, the Interactive Advertising Bureau (IAB) appears to be installing a twice-a-year podcast upfront schedule. This is after moving the original fall event to the spring, in order to align with the IAB's video upfront event. Our presumption was that it would remain an annual showcase for new podcasts, but the resumption of the fall event indicates that the IAB is moving into a biannual schedule. 
Today we see a full schedule has been released — see it HERE.
Several brands familiar to the advertiser-exclusive audience at past upfronts are presenting. They include NPR, WarnerMedia, SXM Media, Audacy, Acast, and others. Newcomers include LWC Studios, Osiris Media, Blue Wire, The Atlantic, and others. Altogether, 18 presentations are scheduled, and a few unbranded panels are planned.
The IAB helpfully enables adding individual presentations to an attendee's calendar, but our experience is that many people let the whole thing run. This Podcast Upfront is a two-day event, September 9-10. It is part of an expanded fall event schedule with two other components:
A new one: The IAB Fall Marketplace, for digital video and connected television buyers (September 14)
IAB Audience Connect, which is about data, addressability, and privacy
As in the past RAIN will provide detailed coverage of the Podcast Upfront.
.