Podcast hosting platform Omny Studio, a unit of iHeartMedia's Triton Digital subsidiary, has introduced an interesting tool for its network clients which host multiple shows. Called Shared Listeners, the new feature allows publishers to determine how many listeners are unique to a particular show and/or shared across other programs in their network. IAB standards for defining a listener are built in.
The new capability allows networks to make better informed decisions about cross-promotional marketing in their shows.
Omny has put up an explainer which offers a deep dive into using the Shared Listeners tool. We can see in the screenshot below how "shared" and "unique" metrics have a reverse correspondence: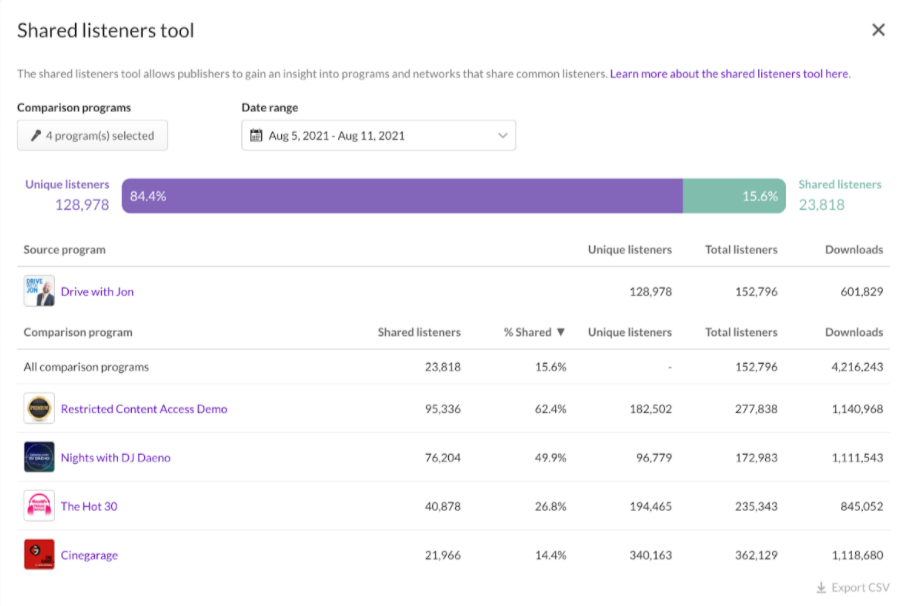 Omny says that similar tools on multimedia services like Facebook and Google, but Shared Listeners is first-of-its-kind in a podcast platform. "Through a mix of observation and user feedback, we recognized a gap in insights, not only within our platform but within the industry at large," Omny says.
Some enterprise publishers who beta tested the tool analyzed crossover audiences between national shows and local breakfast shows. Knowing which markets had more crossover listeners helped make better decisions about on-air strategies.
.