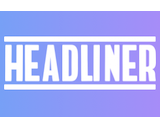 Headliner, a platform for social media audio discovery, has entered a partnership with podcast platform Pinecast. Under the terms of their arrangement, Headliner will provide Pinecast users with the tools to create video clips of their content that can be posted to social networks. They can use the simple wizard or the more powerful video editor to create audiograms and online videos. Exported clips will appear in the Pinecast interface, allowing multiple people to collaborate on projects.
"Given its reach, social media has become the best discovery platform for audio, and bringing Headliner to Pinecast just made their hosted shows more visible than ever," Headliner CEO Neil Mody said. "Now all their customers can share their audio on social media in minutes. We are proud to work with companies like Pinecast that are making podcasts not only easier to create, but also easier to share and discover than ever before."
"Pinecast is all about making podcasting as easy as possible, so partnering with Headliner was a no-brainer" said Matt Basta, CEO of Pinecast. "Our platform has been embraced by podcasters because it allows creators to focus on creating great content while we take care of the rest. Our integration with Headliner's technology has allowed us to offer another exceptional tool for podcasters to engage their audiences with."
Headliner has teamed with a range of other companies, including podcast specialists such as Omny Studio and radio station group Townsquare Media, to help share audio content on social platforms.