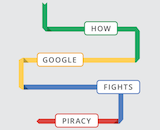 With the release of its new "How Google Fights Piracy" report, Google announced a change to its search engines that will make illegal sites less likely to appear in queries. Senior Copyright Counsel Katherine Oyama wrote a blog post explaining the main points of Google's latest efforts in the anti-piracy space.
For instance, Google has recently experimented with new ad formats to give extra signal boost to streaming services. Oyama also noted that sites that get a large number of valid DMCA notices will be ranked lower in results. The company is also removing certain terms from its autocomplete fields based on those DMCA notices.
The initial response from the music industry appears positive. "If these new steps help guide more consumers to services like Spotify, Deezer and iTunes, which give back to music, instead of to fraudulent torrent or hosting sites, then they would represent a step forward for artists, labels and all those trying to build a thriving music economy online," said Geoff Taylor, CEO of the British Phonographic Industry.