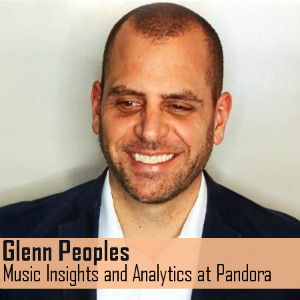 Glenn Peoples is Head of Music Insights and Analytics for Pandora. This guest column was originally published on Medium.
---
Radio is widely considered a friend of songwriters and publishers. Streaming services' royalties have been criticized from private conversations to testimony on Capitol Hill. But when broken down at the most granular level, one person listening to one song, Pandora's current publishing royalty is 67 percent larger than radio's publishing royalty per listen.
According to my calculations this year Pandora will pay songwriters and publishers about 0.0351 cents per spin (or listen), or $351 per million spins. That may seem small, but I estimate radio will pay songwriters and publishers about 0.0021, or $210 per million spins.
It's easy to understand why a person might believe radio offers better royalties. Radio simply has more spins to more people. Radio is the classic "one-to-many" medium. It has a massive audience (93 percent of the U.S. each week) and gets huge listening time (15.1 hours per week, on average). As a result, a popular song can be heard repeatedly in markets both big and small. Consider that Mark Ronson's "Uptown Funk" had a U.S. radio audience — listens, in other words — of 4.8 billion in 2015, according to Nielsen Music. And radio broadcasts have been made since the early 20th century whereas Pandora is just 10 years old.
Internet radio is a "one-to-one" medium. Even though Pandora has about 80 million monthly listeners, its royalties seem small because each royalty applies to a spin to a single listener. Like other streaming services, Pandora pays two types of royalties. One is related to a sound recording and benefits record labels and performing artists. The other royalty is related to that sound recording's underlying musical work — called "publishing royalties" here — and is paid to songwriters and music publishers. And because a royalty is generated by a single stream, both rates are small on an individual level.
But here's the rub: when comparing the royalties earned when a single person hears a single song, radio also pays a fraction of a cent to publishers and songwriters. Comparing these fractions of cents is the best way to compare radio royalties to Internet radio royalties. After all, the audience of a one-to-many platform (radio) cannot be given a side-by-side comparison with a one-to-one platform (Internet radio). The radio audience needs to be broken down into individual listens.
Calculating Pandora's publishing royalty is easy. Estimating a per-song-listen royalty for radio isn't straightforward, however. But a good estimate for radio can be calculated with by digging for publicly available data and making fair, logical assumptions. And I should be clear that the radio royalty derived here is just an estimate.
Pandora's per-spin publishing royalty is currently 0.0351 cents. It's calculated by taking 20 percent of 0.176 cents, the expected blended rate for sound recordings in 2016 (the value is found in a December 16, 2015 Pandora press release). This royalty, 0.176, deserves some explanation. The royalty for a stream of a sound recording is 0.17 cents for ad-supported spins and 0.22 cents for subscription spins. This year's spins are expected to have a ratio of ad-supported spins to subscription spins of 91 percent to 9 percent (imputed from the blended rate). Weighting the expected ad-supported and subscription streams results in a blended royalty of 0.176 cents. Next, direct deals negotiated last year give publishers 20 percent of the sound recording rates. Twenty percent of 0.176 cents is 0.0351 cents, or $351 per 1 million streams.
Radio's per-stream royalty is roughly 0.0021 cents per song listen or $210 per million listens, according to my calculations. [Note: This covers both broadcast and satellite radio.] This is nearly the same as the value, 0.00219 cents or $219 per million song listens, calculated by David Touve in his Rockonomics blog last year. My value is based the latest available data for 2015 while Touve used data for 2014. But our calculations arrived at nearly the same values because the inputs — namely radio royalties and listenership — didn't change much from year to year.
The roles reversed in 2016. This 2015 rate is a 103-percentage point swing from the 67-percent advantage of today's Pandora's royalty .Before Pandora had direct deals with music publishers, its publishing royalties were about ten percent of sound recording royalties (compared to 20 percent today). This royalty, 0.0134 cents per spin, put Pandora's 2015 per-spin royalty at 36 percent below radio's per-listen royalty.
The calculations for the radio royalty requires a range of inputs (see below). Radio stations don't pay royalties by the song. And we don't know exactly how many songs radio listeners hear in a year. So the best way to calculate the radio royalty is to start with total domestic radio royalties and divide by the estimated number of listens. I've used only publicly available numbers and estimates based on publicly available data (such as calculating the annual radio royalties of BMI and, guided by Touve's work, SESAC).
The total number of spins is just an estimate, and changing an input can push the radio royalty up or down. For example, estimating how many people listened to how all songs played requires knowing how many listened in the first place. I used Nielsen's weekly radio coverage of 93 percent of people 12 and over (also used by Mr. Touve). But the percent of people who listen to radio over 52 weeks (since we're talking annual values here) is probably higher than 93 percent (just as the number of weekly listeners is higher than daily listeners….not everybody tunes in every day). But the lower 93 percent figure actually benefits radio — a higher percentage would mean more people had listened to more songs (and a larger denominator as a result). In another example, changing the average song length to 4 minutes from 3.5 minutes would raise the radio royalty 14 percent (to 0.0024 cents from 0.0021 cents) because the number of listens (the denominator in the equation) would fall.
It's worth mentioning that Pandora's direct deal with indie rights group Merlin, covering only sound recordings, pays a lower rate for some spins. In a 2014 deal that extends to 2016, Pandora pays a lower royalty for steered spins (incremental spins) of Merlin label's recordings. If we assume there are steered songs, we can assume a lower rate for those steered sound recordings and therefore a lower rate for publishing (since the publishing rate is now tied to the sound recording rate). This would decrease Pandora's per-spin rate a small amount.
Components for 2016 Radio Royalties Calculations
ASCAP: $173 million domestic radio royalties, from 2015 annual report.
BMI: $171 million domestic radio royalties, estimated by applying ASCAP's ratio of radio royalties/total royalties to BMI total royalties found in its 2015 annual report. BMI does not disclosure royalties of business segments.
SESAC: $31 million domestic radio royalties, estimate based on 2015 Moody's report.
Total listens: 1.64 trillion
People in U.S. age 12+: 245,871,900, U.S. Census
Percent that listen weekly: 93 percent, Nielsen Music
Weekly listening hours: 15.12, Edison Research (note: this surveyed people age 13 and over while Nielsen's numbers cover people age 12 and over)
Music as share of radio listening: 83.2%, Nielsen Music
Minutes of music per hour: 48, Insider Radio Survey
Songs per hour: 12.0, assuming 3.5-minute average song length
Components of Pandora Royalty Calculations
2015 total royalties: Pandora 2015 10-K filing
2015 publishing royalties: Pandora public disclosure
Ratio of ad-supported to subscription spins in 2015 and 2016 (imputed): Pandora December 16, 2015 press release
2016 sound recording royalty rates: Copyright Royalty Board's Webcasting IV decision