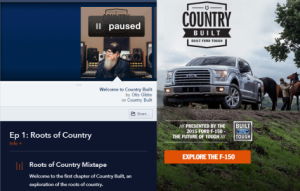 Pandora announced the latest in its series of brand-affiliated music stations. In "Country Built," Ford is exclusively sponsoring a hosted playlist to market its trucks. Companion visual ads take over the browser window in the desktop version of Pandora. (Pandora users can listen here.)
The station is hosted by songwriter Otis Gibbs. Gibbs introduces songs, radio-style, and also features interviews and a live studio session performance by Cale Tyson. There is a historical sweep to the station, and listeners can learn a great deal about the roots of country.
Pandora said that the station will continue to develop through 2015. Upcoming guest interviews include Jay McDowell, curator at The Musician's Hall of Fame and Museum in Nashville, noted author and journalist Barry Mazor and Peter Cooper from the Country Music Hall of Fame and Museum.
"Generations of country music have played on the radios of Ford F-Series pickups over the past 60 years," said Lars Murray, SVP of the Music Makers Group at Pandora, emphasizing a natural connection between sponsor and target audience.
In early listening, we heard early country tracks from Faron Young, Hank Williams, and George Jones, a brief interview with the author of a book about hillbilly music, and a celebration of how broadcast radio helped turn Nashville into a music city.