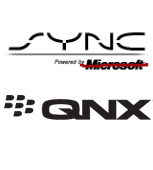 There's no announcement from Ford or BlackBerry, but Bloomberg reports that, according to their sources, the automaker will switch from Microsoft to BlackBerry's QNX platform to power Ford's SYNC digital dashboard. The switch was also reported in the Hansen Report, an industry newsletter. BlackBerry stock jumped 17 percent on the news.
Most consumers know the BlackBerry brand through its smartphones, which, once dominant, have suffered a catastrophic drop in popularity after the rise of iPhones and Andoird phones. BlackBerry's QNX, however, is a major player in car dashboards, providing a platform for Audi and BMW vehicles. Microsoft and BlackBerry's QNX are direct rivals in the field of dashboard operating systems. Bloomberg reports one source saying that the loss of Ford as a client would be a "funeral ceremony" for Microsoft's automotive operating system division.
Ford's connected-car strategy follows the plug-and-play path, in which the driver provides the Internet connection and the infotainment apps, usually via a smartphone plugged into the dashboard. Part of the SYNC system provides dashboard controls of the smartphone, increasing both ease-of-use and safety. This strategy contrasts with some other automakers which build online connectivity into the car, and factory-bundle entertainment apps into the dashboard.