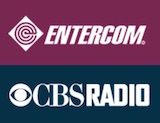 Entercom announced that it has reached a settlement with the Department of Justice that will allow its merger with CBS Radio to proceed. The broadcasting company expects the merger to close as early as November 17, pending FCC approval. Entercom first announced plans to merge with CBS Radio in February. The merged behemoth will become the second largest radio group in the U.S.
The agreement with the Antitrust Division will require Entercom to enter an asset exchange with iHeartRadio and Beasley, plus a local marketing agreement with Bonneville International. This will see iHeartRadio receive four Boston stations and three Seattle stations. Entercom will receive six Richmond stations and four Chattanooga stations, both new markets for the company. Beasley and Entercom will exchange a station each in Boston. Finally, Bonneville will program four stations in San Francisco and four in Sacramento.
"Today's announcements mark a significant milestone as we work to complete the transformational combination of Entercom and CBS Radio," Entercom President and CEO David Field said. "While it is necessary to divest certain stations in order to secure regulatory approval, it is difficult to part ways with so many strong brands and, most importantly, their talented people. However, we are excited by the terrific new additions to our lineup that will bolster our position in Boston and expand our footprint in the Southeast. We look forward to unlocking the potential of the combined company to deliver value for our listeners, customers and shareholders."
Along with the DoJ go-ahead, Entercom reportedly distributed an internal memo detailing a slate of executive promotions. On the digital side of the business, frequent RAIN Summit speaker Tim Murphy shifts from VP, Digital Strategy & Enterprise Platforms to SVP , Business Development. Jeff Miller, who entered Entercom in 2014 as VP of the company's SmartReach Digital program (which offers digital marketing tools to regional advertisers), receives a title bump to SVP of that division.