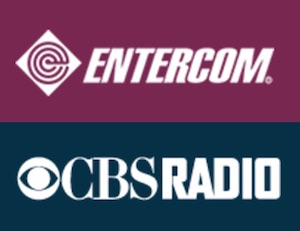 In an answer to the industry-wide question of how CBS Radio will separate from parent company CBS, we learn today that it will merge with Entercom. In this venture, CBS Radio abandons the much-speculated IPO path. Entercom, now the fourth-largest U.S. commercial radio group, will become the second-biggest by revenue.
The agreement is officially characterized as a merger, not an acquisition. The basic structure is complicated. CBS shareholders will own 78% of the combined CBS Radio/Entercom entity. The management structure, though has current Entercom CEO David Field leading the new company. The Wall Street Journal is one publication which has reported that Entercom has acquired CBS Radio.
CBS Radio President Andre Fernandez will continue leading his group until the deal closes.
The merger/acquisition will see the creation of a combined radio platform operating 244 stations, in 23 of the top 25 markets. According to the press release announcing the merger, the deal also covers "robust digital capabilities," but it did not delve into details of that component. Assuming Entercom shareholders approve the transaction, the deal is expected to close in the second half of 2017.
"Radio reaches more Americans than any other medium, and offers advertisers outstanding ROI and local activation," Entercom President and CEO David J. Field said. "This transformational transaction creates scale-driven efficiencies and opportunities to compete more effectively with other media to better serve our listeners and our advertisers. The combination of a compelling strategic fit, an excellent balance sheet, and robust free cash flow generation, position us to create significant shareholder value for our investors."
The details that we do have include leadership, with Andre Fernandez expected to continue as CBS Radio's president and CEO after the merger. On the financial side, it is currently being billed as a tax-free merger. The two parties had combined pro forma revenue of about $1.7 billion over the previous 12 months, with adjusted EBITDA of nearly $500 million. Other monetary specifics of the merger were not disclosed.