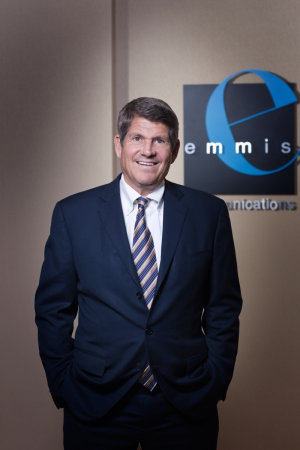 We read the excellent extended coverage of Emmis' earnings call in Tom Taylor's NOW Newsletter, which quotes CEO Jeff Smulyan talking about NextRadio, describing it as radio's future, and announcing that streaming will be added to the platform. We dug up a transcript of the earnings call for more details.
First, some background: NextRadio was introduced in August, 2013, as a tuner for SmartPhones to receive over-the-air radio reception with enhanced on-screen interactivity. In the nearly four years of NextRadio promotion, Emmis has faced three main challenges:
Getting phone companies to activate the dormant FM chips in their phones;
Getting end users to download NextRadio and listen to stations in that manner;
Getting radio stations to participate by activating the interactive enhancements (via the TagStation back-end tool) and promote NextRadio as a key mobile listening option.
All American carriers now are supportive of NextRadio, Jeff Smulyan disclosed to his investor audience. That's a big gain from early days when launch partner Sprint was alone in the field. But carrier willingness is only half the way to the consumer — the phone manufacturers must turn on those chips. Apple is a huge holdout, and there is no reason to expect a change, since Apple started the trend of inactive FM chips in the original iPod (going against the standard feature set in existing, and in some ways superior, MP3 players) and iPhones.
In the area of user adoption, Smulyan noted that NextRadio is downloaded about 500,000 times a month. That's a number to be pleased with, but six-million downloads a year does not represent mainstream adoption of an app, and the earnings call did not get into listening metrics. (A recently posted article at TagStation.com, which represents the industry view of the NextRadio venture, said that a morning drive promotional campaign early this year raised usage of the app by nearly 13%.)
The decision to add a streaming component (which was first announced at the recently complete NAB Show) is interesting. Streaming instantly makes the NextRadio app viable on every smartphone, but takes reception off the air when the app is used that way. One of NextRadio's most urgent selling points has been the power saving, and data saving, of transmitter reception compared to streaming — both points are reduced as batteries get more powerful and data plans get more generous.
Perhaps more to the point when it comes to consumer adoption, streaming puts NextRadio in competition with iHeartRadio and TuneIn, each of which has a usage footprint in the hundreds of millions. Enhanced features will have to differentiate the experience.
With all this, Jeff Smulyan emphasizes that NextRadio is still a young product: "People forget that the entire NextRadio project is very early stages. We've just gone on all the carriers, we're just ramping up with OEMs, we always knew this is a long-term process but we also thought that long term it is critical to the future of our industry."