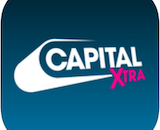 The UK has a strong radio culture, thanks to the long legacy of the BBC and widespread radio-set ownership. But we're seeing more and more outlets in the region pushing the boundary between lean-back and lean-in as they transition into the digital space. The BBC has sketched a roadmap to an Internet-only future. Capital Xtra, the radio app from media/entertainment company Global, has also made strides to incorporate features that would usually be the purview of on-demand services.
Global added a new feature to the core app called My Capital Xtra in November that brought some interactivity to the programming, and today, the company issued a press release stating that it is launching a totally new app with the same name. The concept of My Capital Xtra appears to be giving listeners options for increased control over what comes through their headphones. Swiping left while listening live enters the new mode. From there, you can opt to skip a track, or remove one of the eight upcoming songs in the live playlist. The app will replace a removed song with a different one. The app also allows replays of previous days' programming, with the option to scrub through the sets.
These interactivity features may only be available in the UK. Nothing happened when we swiped left during the live broadcast in the basic Capital Xtra app, and so far, a search for "My Capital Xtra" in the App Store has yielded no hits stateside. But this concept of the traditionally lean-back format willing to explore ways to personalize the radio experience is one that we'll be following closely in the coming months.