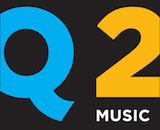 WQXR-FM's Q2 Music channel has announced the launch of a new podcast series focused on contemporary classical music. The show, titled LPR Live, will include performances recorded at New York City's Le Poisson Rouge music venue. Conor Hanick, a regular collaborator on Q2 Music, will serve as the podcast's host. According to the press release, the show will include performances, commentary, and interviews. The first episode focuses on an American Contemporary Music Ensemble performance of a Steve Reich composition.
The show will be available on the Q2 Music website and through iTunes. LPR Live marks Q2's second foray into podcasting following its Meet the Composer series that hit digital airwaves thanks to Kickstarter funding.
"The launch of LPR Live is the latest chapter in our evolving partnership, and an exciting opportunity to build upon the success of Meet the Composer, this time bringing complete pieces of vibrant contemporary classical music to a new, eager podcast audience," Q2 Music Producer Alex Ambrose said.
Q2 Music emerged out of WQXR in 2013. RAIN News spoke with WQXR General Manager Graham Parker about the project's goals and plans to unite broadcast with pureplay.