eMarketer has released original research showing that Spotify serves more U.S. listeners than Pandora (a U.S.-only streamer) does.
According to the research company: "Pandora is no longer the most popular music streaming service in the US, with Spotify taking the No. 1 spot in 2019. According to eMarketer's latest forecast on digital music listeners, the number of Spotify listeners surpassed those of Pandora two years sooner than predicted in our March 2019 forecast."
Here is the chart, which predicts a widening of the competitive divergence: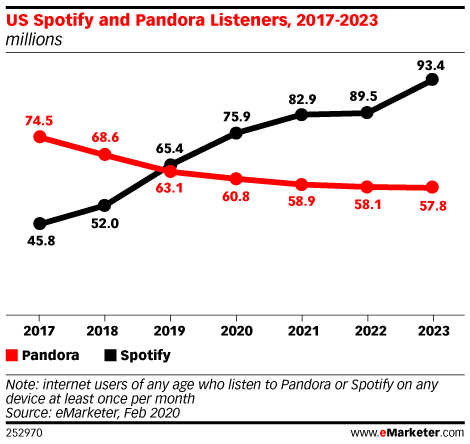 In RAIN's long-term tracking of Triton Digital's Webcast Metrics Top 20 Ranker, Spotify overtook Pandora in U.S. listening time (not number of users) in January, 2018. That is according to Average Active Sessions (AAS), a key Triton metric which measures the average number of individuals being served simultaneously. It is a completely different metric from that which eMarketer is using, and offered here for a different perspective of Spotify's growth in the U.S.