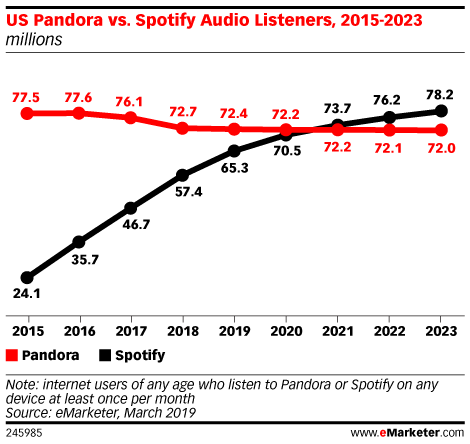 A new forecast by eMarketer is casting Spotify's future in an even more favorable light. The company had previously predicted that Spotify would have more users in the U.S. than Pandora by 2022. Now it's predicting the swap to happen in 2021.
According the eMarketer's assessment, Pandora will continue to see slight declines in its U.S. audience this year through 2023. It is projecting the audio platform to have 72.4 million U.S. monthly users in 2019, then dipping to 72.2 million in 2020 and holding at that figure in 2021.
Spotify, in contrast, is anticipated to grow its U.S. base to 65.3 monthly users in the U.S. this year, followed by 70.5 million in 2020 and 73.7 million in 2021. The report mentioned mobile and smart speakers as helping to drive Spotify's expected growth trajectory.
"Pandora lost users last year because of tough competition from other services attracting people to switch," said Chris Bendtsen, an eMarketer forecasting analyst. "Apple Music has been successful in converting its iPhone user base, Amazon Music has grown with smart speaker adoption, and Spotify's partnerships have expanded its presence across all devices."