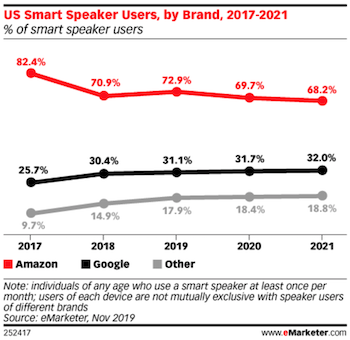 eMarketer's latest report offers a snapshot of the U.S. smart speaker market, and the outlook is still rosy for Amazon. The company's Echo line is projected to be used by 69.7% of U.S. smart speaker users in 2020 and by 68.2% in 2021.
Amazon's total dominance has faded slightly from its 82.4% share of smart speaker users in 2017, but its rivals still have a long way to go to catch up. Google's portion of U.S. smart speaker users has been inching up in recent years, from 31.1% in 2019 to an anticipated 31.7% in 2020 and 32% in 2021.
In eMarketer's assessment, the "Other" brands includes any other smart speaker hardware, such as the Apple HomePod, Sonos One, and Harman Kardon Invoke. The share for these additional businesses reached 17.9% in 2019 and is projected to hit 18.8% by 2021.
"Since Amazon first introduced the Echo, it has built a convincing lead in the US and continues to beat back challenges from top competitors," eMarketer principal analyst Victoria Petrock said. "We had previously expected Google and Apple to make more inroads in this market, but Amazon has remained aggressive. By offering affordable devices and building out the number of Alexa skills, the company has maintained Echo's appeal."
Petrock added that smart speaker growth may slow overall as voice assistants become increasingly common in other hardware. These other products could provide Google and the rest of the field a chance to make bigger inroads against Amazon's Alexa and Echo.