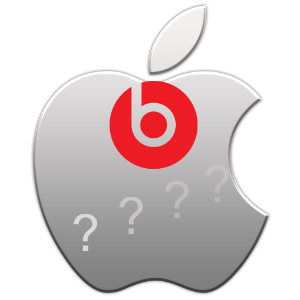 Predictions are dangerous, but here goes.
Installing Beats Music as a built-in iOS app creates headlines, and is an obvious maneuver, but it barely lessens the challenge faced by Apple in the harsh music subscription space. It will not, by itself, move the needle for Beats or Apple. A crucial new effort is needed, and Apple has not demonstrated creativity in the music space for years.
If this industry has learned one thing, it is that big exposure doesn't necessarily convert to big adoption. Fourteen months ago Apple launched iTunes Radio directly in iPhones and iPads. There followed a six-month apocalyptic "Pandora killer" phase in the media echo chamber. In reality, Pandora continued without noticeable damage to its dominance in the online radio space.
Beats Music experienced its own spinning-tire phase before the Apple acquisition when it was bolted into AT&T, exposed to millions of wireless customers with credit cards on file, at discount prices. Only 250,000 (estimated) paying customers were on board by May. Lukewarm consumer uptake might have contributed to the company's availability as an acquisition target.
So exposure to a built-in global audience does not guarantee quick success. And there is a broader consumer trend in play, which could blow a strong headwind against Beats Music (or whatever it is called after being woven into Apple's iOS). Music subscription is a demonstrably tough sell across the board, for three reason:
Subscribing to music is conceptually difficult in the mainstream market.
Most people (75% in Edison's The Infinite Dial 2014) accept advertisements in exchange for free music listening. In other words, the ad model is far more successful than the subscription model. This is demonstrated in the audience profiles of both Pandora and Spotify, each of which is weighted to free listening.
The lean-forward interactive features of subscription music (searching, playlisting, making a personal library) are too interactive for most people, requiring too much work. Most people want to hit a Play button and hear music they like.
In yet another way, the tide is rolling against Apple/Beats. Buzz for Beats Music faded quickly after its splashy January launch. The chief differentiator — celebrity music experts curating the playlists — was not different enough. There is no feeling of specialness to Beats Music, and no crowd behind a velvet rope waiting to get into Beats as an Apple product.
What could work? Apple has reportedly talked with rights-holders about lower subscription pricing that could change public acceptance. Here's the problem with that: At the standard $10/month price, music subscriptions are already jaw-dropping values … but only for people who enjoy digging into those platform features. If Beats Music gets dropped into iOS unchanged, only cheaper, it will not overcome conceptual resistance or move the market.
What else could work? Great product can work. Apple has proven that principle like few other companies. But Apple has not influentially innovated in the music space since the iTunes Music Store launched in 2003 — or, to view it more broadly, since the invention of the iPhone which kickstarted the mobile lifestyle, including mobile music. iTunes Radio is a blandly me-too product, derivative, and not even cleanly packaged in iOS.
Great product is attention-getting. Does the company still have a music innovation engine under the hood?