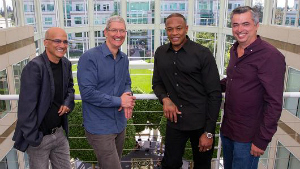 A little more detail spilled out of this week's important industry consolidation, as Apple acquired Beats Electronics. According to sources cited by The Wall Street Journal, Apple's valuation of Beats Music, the subscription streaming service, was $500-million. The rest of the $3-billion acquisition cost went to the headphone and speaker electronics division.
The valuation is interesting for a couple of reasons. First, the music portion of Beats clearly took the lead in Apple's announcement of the deal, which barely referred to the famous Beats headphones. The valuation does not reflect the apparent acquisition priorities as expressed by CEO Tim Cook, and Beats Music co-founder Jimmy Iovine.
Economically, assigning a lesser value to Beats Music makes sense. The electronics part of Beats (headphones and speakers) earned $1.2-billion in 2013, and is profitable. In that context, the breakdown of acquisition cost gives that division roughly a 2x multiple of its existing balance sheet.
On the other side of the equation, many observers (including the WSJ) note that, through a per-subscriber lens, $500-million is a dramatic multiplier of Beats Music existing value. The service reportedly has 250,ooo subscribers (111,000 subscribers in March). Apple is acquiring those subscribers at a cost of $2,000 each. The WSJ notes that privately-held Spotify's 10-million subscribers are currently valued at $400 each, according to a stated valuation after its most recent financing round.
Whether Beats Music was expensive or inexpensive for Apple, the deal's leadership principles made it clear that the match-up of executive talent and corporate resources was the point. No explicit product plans have been described — the deal still needs to clear regulatory scrutiny before closing. But there is a "Just wait and see" tone to this week's statements by Cook and Iovine.