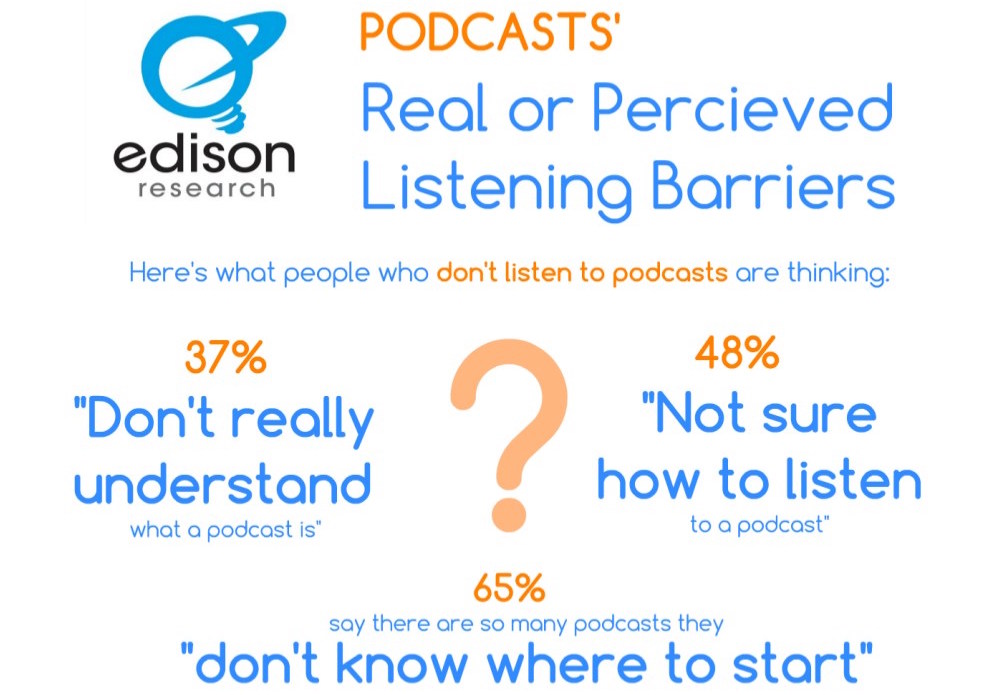 If you weren't able to attend Podcast Movement in Philadelphia, you can still catch up on a few of the top takeaways from the keynote by Edison Research SVP Tom Webster. The talk, titled The Next Frontier in Podcasting: 100 Million Listeners, explored the gap between the high rates of people who are familiar with the term podcasting and the lower rates of people who have actually listened to a show. The data from an Edison online survey of 1,000 adults aged 18 and up revealed that there are some basic barriers to entry before that gap can start to close.
The keynote slides shared some of the main reasons why people don't listen to podcasts. Nearly two-thirds (65%) said that they "don't know where to start" and are overwhelmed by the options and choice available. Almost half (48%) said they are "not sure how to listen to a podcast." And even among those who are familiar with the term, 37% said they "don't really understand what a podcast is."
There are also some technical misconceptions left to cross. Eighty percent of the survey respondents said they think they don't have a podcast app on their phone, even those many smartphones come with pre-installed software for that purpose. Mobile plans were also a concern, with 62% saying that podcasts could use up a big chunk of their data plans.
For more on Podcast Movement, check out the RAIN News recap and a blog post from Amplifi Media's Steve Goldstein.