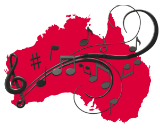 Australia's government is considering new rules that would set quotas for supporting domestic artists on both broadcast radio and streaming music platforms. The Australiasian Performing Right Association (APRA AMCOS) has appeared before a Senate inquiry in support of setting a 25% quota of Australian content.
Currently, Australian radio stations must play between 5% and 25% Australian content depending on genre, but the stations are mostly allowed to set their own definitions of genres. APRA AMCOS CEO Dean Ormston told the Senate that a blanket 25% quota is "not only achievable but internationally reasonable." He also pointed to the larger international trends of revisiting music-related copyright rules and infrastructure frameworks as reasons to seriously consider a quota.
"Music streaming services have local curation teams in Australia and have already demonstrated some very good support for Australian artists," he said. "We're in conversations with music streaming services around the concept of benchmarking locally-curated playlists to ensure there is always an opportunity for Australian music to be heard and discovered by local audiences and mitigate the risk of foreign artists unfairly dominating local charts. … In fact, promoting playlists featuring increased levels of Australian music to Australian consumers in an on-demand environment may even prove to make good business sense. Our stats show that local works are streamed at least twice as much as foreign works."
The Australian Recording Industry Association (ARIA) has also voiced its support for a quota system. Rohini Sivakumar, ARIA corporate counsel, commercial, also participated in the recent Senate enquiry into local music quotas.
"ARIA is of the view that streaming music services could support Australian music by having local employees dedicated to curating and supporting Australian content, investing in locally-produced and curated playlists, ensuring that proportionate Australian content is appropriately represented on its locally-curated playlists and highlighting Australian artists in its promotional material, both internally to its users and externally by its marketing channels," Sivakumar said.