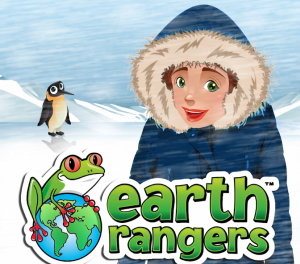 We received a note from Earth Rangers, a Canadian organization seeking to activate kids' interest in conservation, about a new podcast called The Earth Rangers Podcast. It is an entertaining, carefully produced, pleasingly voiced, collaborative production targeted to kids. Three business entities are involved: Earth Rangers, Gen-Z (a production house focused on podcasts for kids), and PRX. Earth Rangers takes production credit, while PRX handles distribution. Marketing is shared by all three companies.
Hosted by Toronto-based, actress Lee Lawson, as aspiring wildlife biologist "Earth Ranger Emma", the Earth Ranger Podcast combines exciting animal facts and inspiring conservation stories as well as candid conversations with scientists and researchers to create a fun and educational audio program. RAIN listened to the first episode, scheduled to drop August 7, and found it hitting that elusive note that is both charming and educational. Listeners are challenged to identify animal sounds (also kept listening for the answer), and learning interesting things such as why polar bear fur is white.
The first season is planned to stretch over six episodes.
"As the largest kids conservation organization in Canada, Earth Rangers has been educating and empowering children to protect wildlife and the environment for 15 years. The Earth Rangers Podcast will continue that tradition in a new medium, providing a fun and exciting way for kids everywhere to explore the wonders of nature, discover the rich biodiversity of our planet and most of all, be wildly entertained," said Tovah Barocas, Vice President of External Relations at Earth Rangers.
Benjamin Strouse, CEO of Gen-Z Media, made this statement: "Gen-Z Media is committed to bringing kids around the world and their families a wide variety of great audio programming. We know our younger listeners are going to enjoy this thoughtful yet whimsical show that inspires with its mission and values and entertains with its delightful host and engaging format."