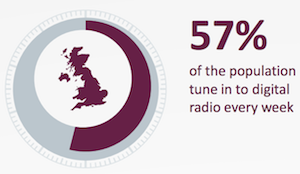 The first quarter RAJAR data for 2016 revealed steady growth for radio listening in the UK, depending on the platform. All radio listening had an audience of 47.8 million adults, or 89.3% of the adult population. That percentage is unchanged from the year-ago period, up just 24,000 people. However, digital radio sources (which RAJAR counts as DAB and online) have been on the rise.
Digital radio audience has continued to grow slightly, from 56% in Q4 2015 to 57% in Q1 2016. The share of radio listening going to digital sources has been steadily rising for years, most recently from 39.6% in Q1 2015 to 44.1% in Q1 2016. Digital listening in an average week totals about 444 million hours. 310 million (70%) of those happen on DAB sets, and DAB radio ownership in the UK has increased 14% on-year to 30 million adults. Online accounted for 18% of digital listening and DTV was 12%.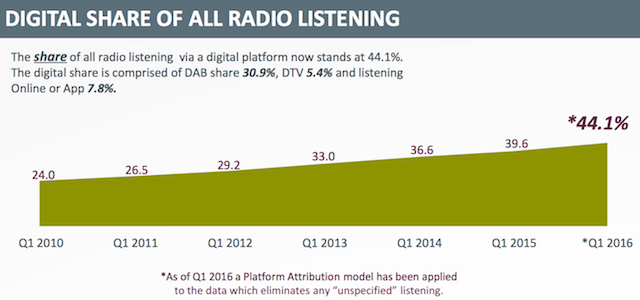 Finally, the results pointed to continued interest in listening on mobile devices. A quarter of adults said they listen to radio on a phone or tablet at least once a month, a 14% increase on-year. That proportion grows for the 15-24 age group, where 37% said they listen on mobile devices at least once a month.