RAJAR data for the fourth quarter of 2015 revealed a fresh snapshot at radio listenership in the UK. The report found that the average listener spends 21 hours and four minutes with live radio per week. The reach for all radio was also strong, with 48.2 million adults (or 90% of the population over age 15) tuning in each week. That's a slight increase from 89.4% in Q4 2014 and 89.3% in Q3 2015.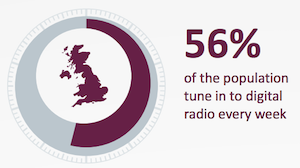 More than half of the UK's adult population (56%) is tuning in to digital formats of radio. Digital platforms secured a 41.7% share of all radio listening, up from 37.9% in the year-ago period. Share of listening hours for DAB technology also rose to 27.7% from 25.5% in the final quarter of 2014. DAB radio ownership increased 10% to 29 million adults. The DAB sets were the most popular device for digital listening with 280 million hours in an average week. Online options were second but far back at 69 million hours and digital TV was third at 50 million hours.
Mobile devices became a more popular listening platform over the course of 2015, with 26% of adults claiming to listen to radio on phones or tablets at least once a month. That's an impressive 20% increase on-year. Younger listeners were much more likely to choose mobile devices for radio, with 41% of the 15 to 24 age bracket listening there at least once a month, almost twice as much mobile listening as the 25-and-over crowd.