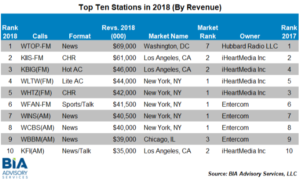 The key metric is about digital advertising platforms at local radio stations. That slice of revenue outperformed over-the-air (OTA) advertising, rising 8.1% to $932-million. the updraft of digital revenue began six years ago, according to the report. Meanwhile, traditional over-the-air advertising was fairly flat at $13.3-billion (down 1.6%). So, while digital revenue is on the upswing, it represents a small fraction of overall moneymaking for radio.
The report also positions radio as the fifth "most significant" advertising medium, behind direct mail, mobile, online/digital, and local television.
As we have seen before, WTOP-FM was the top-earning radio station in 2018, earning $69-million in the Washington, DC market. That is the only Hubbard Radio station in the top-10 list, which is filled out with five iHeartMedia stations and found Entercom call letters. Four of the 10 are AM stations. Six of the 10 produce a talk format, one of which is sports and the others are news.
Mark Fratrik, BIA SVP and Chief Economist, said: "We do expect the OTA advertising revenue of U.S. radio stations to decrease this year by 1-2 percent and through the next few years." He also projected flat levels for overall radio earnings for the next five years, as digital fills in for OTA. Along that line, Fratrik said digital platforms will reach $1-billion by next year.