In a tech + tech deal, podcast platform Acast has acquired podcast hosting company Pippa. Acast, which self-describes as "the biggest global podcast company," announced its grab in a blog post.
"With this acquisition, Acast cements its position as the premier podcast company globally, offering a marketplace for advertisers, cutting edge technology for creators of any size, and discovery tools for listeners."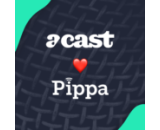 Key to the deal rationale is expanding Acast's number and range of shows, and expanding its success criteria. The announcement notes that the Acast platform has operated with a gate based on minimum number of listeners. Smaller-scale shows could not get on Acast. Now, via Pippa, Acast's offering and marketplace are dramatically expanded.
From Pippa's simultaneous blog announcement: "Joining Acast represents an important, necessary, and extremely exciting leap forward for Pippa." ("Necessary" is an interesting word choice.) "Acast's reputation as the premier podcast company in the world is well deserved. We're honored to join their team and — with you — to continue crafting the future of podcasting together."
Acast's vision of the combined future is that Pippa provides a consumer-facing host solution which can be funneled straight into Acast's monetization system. Good for podcasters; good for Acast's offering to marketers.
Pippa is one of a breed of progressive podcast hosts that offers services beyond the strict definition of hosting a podcast and providing an RSS feed. The platform enables Alexa integration tools, easy website building, transcript generation, and video snippet creation for social sharing. The company charges $12-60 a month for different levels of service, and is open to any podcaster.