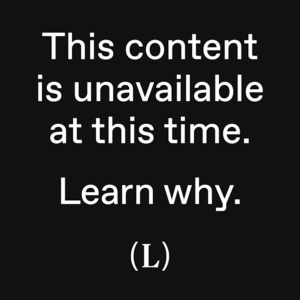 UPDATE: After posting the original version of this piece, PodcastOne informed us of its takedown notice to Luminary, covering all its shows, and featuring a quote from Executive Chairman Norm Pattiz:
"Since Luminary's focus has been promoted solely as a paid subscription model, we were surprised to see them also use the free model which they have spoken negatively about and compete against. If they want to reach our audience to promote their site, then they should do the 'unthinkable' and advertise in our podcasts as hundreds of other advertisers do."
With this development, Luminary's bumpy rollout is starting to look like a more serious emergency. If we are witnessing a gathering of momentum, and the daily drumbeat of podcast withdrawals continues, Luminary could start to be defined by the controversy and forced to continually answer questions about it.
Some speculation has swirled about the inner works of previous announced withdrawals from Luminary (see below). Nicholas Quah in Hot Pod has theorized that the disagreements are mostly procedural, as opposed to a theory that competing distributors like Spotify and The New York Times are trying to injure the startup. PodcastOne seems clearly motivated by Luminary's apparent plan to use free listening as an onboarding funnel to the paid service. (This idea discussed below).
PodcastOne maintains a portfolio of about 300 shows, some percentage of which are owned-and-operated originals. Adam Carolla is PodcastOne's most celebrated talent. The company offers a premium enclave ($5/month) for ad-free listening and some bonus content.
ORIGINAL POST:
In what is shaping up as a daily Luminary update, today we can report more podcasts which have withdrawn permission to be included in the Luminary listening app. We learn from Podnews that Barstool Sports, a top U.S. publisher according to Podtrac's monthly ranker, has pulled its 26 shows from Luminary. Endeavor Audio, creator of Blackout and The Bellas, is also out.
This follows yesterday's note that The Joe Rogan Experience, a top podcast, also withdrew from Luminary. That high-profile exit motivated an explanation from Luminary:
"We know you were looking forward to listening to The Joe Rogan Experience. Unfortunately, the publisher has chosen not to make it available in the Luminary app at this time. We know – disappointing. At Luminary, we're focused on improving podcast listening for you, for fellow fans, for the people in your life who don't listen yet, but who will, after your glowing recommendations. We've built an app that welcomes hundreds of thousands of public podcasts onto our free service and helps all of you find your favorite shows. We'll continue working to bring The Joe Rogan Experience to the Luminary service, but in the meantime, head to our homepage for other great podcasts we recommend. Thank you for choosing to listen with us." (Transcript of the audio.)
Total Luminary withdrawals that we know about:
The Daily (New York Times)
Gimlet podcasts
Anchor podcasts
Parcast podcasts
Endeavor Audio podcasts
The Joe Rogan Experience
PodcastOne (see update above)
What's it about? We are not privy to the private conversations, but the main thrust of Luminary controversy is the company's expressed anti-advertising stance as expressed in the past, and its stated goal to become "the Netflix of podcasting." Nothing unethical  about that — but many observers fear for the survival of podcasting's traditional open distribution.
As we noted in our initial review, Luminary as it stands today is a basic podcatcher, relatively undeveloped compared to established competitors, and offering a premium subscription tier for ad-free listening and a growing selection of shows unavailable elsewhere. Luminary in its present state can reasonably be compared to Stitcher … but as that premium portfolio grows Luminary will establish uniqueness as a show developer seeking a paid audience.
In that scenario, we might compare Luminary to Spotify in its audience acquisition strategy: Provide free listening as a funnel to a premium experience. In Luminary's case that experience will  eventually include a substantial collection of exclusives, which is a tactic mostly avoided in the music streaming business.
But regardless of specific values, the withdrawal of some podcasts (with perhaps more to come if these announcements build momentum) seems to represent an unwillingness to be part of that funnel.