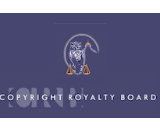 The Copyright Royalty Board (CRB) ruling of new webcast royalty rates to labels (also handily known as Determination of Royalty Rates and Terms for Ephemeral Recording and Webcasting Digital Performance of Sound Recordings [Web IV], and available for your reading pleasure here), was published in the Federal Register yesterday, per process schedule.
The publication opens a one-month appeal window. During this time, participants in Web IV (which is what the whole two-year rate-setting process is called) may file litigation which contests the ruling. Appeals (if any) will be heard in the US Court of Appeals in Washington DC, according to broadcast law attorney David Oxenford.
SoundExchange
There is unhappiness with the CRB's new rates, which were announced in December and took effect January 1. SoundExchange, one of the major litigating participants, which represented music labels and which is charged with collecting label royalties from webcasters, is the likeliest entity to consider an appeal. Back in December, hours after the rate announcement, SoundExchange expressed disappointment and promised to consider options:
"Music has tremendous value and is the core foundation of the webcasting industry. It's only fair that artists and record labels receive a market price when their music is used. We believe the rates set by the CRB do not reflect a market price for music and will erode the value of music in our economy. We will review the decision closely and consider all of our options." –SoundExchange, December 2015
That was a reaction based on the CRB's rate of 17 cents per 100 track plays for Pandora's non-subscription internet radio streams, and other services in the same model. SoundExchange had litigated in favor of a much higher rate.
Additionally, SoundExchange was upset at the rate reduction for traditional radio webcasts, which had been paying 23 cents per 100 plays, and were given a reduction to the 17-cent rate. About that, SoundExchange stated: "Additionally it is deeply disappointing to see that broadcasters are being given another unfair advantage. In their terrestrial business they do not pay a dime for the recordings they use and now this $17B industry will receive an additional huge subsidy on the music they use in webcasting."
Small Webcasters
Nobody is less happy with webcaster royalties in 2016 than small webcasters. This business group, defined as earning less than 1.25-million dollars per year, enjoyed discounted rates that were established in 2009, in a specially created law which expired on December 31, 2015.
Boom — their rates shot upward by multiples of the previous cost, depending on listening hours and number of tracks delivered to individual listeners. We have heard anecdotal reports of 14x cost increases. Today we received a copy of the annual fundraising appeal sent by Radio Paradise, a highly successful, veteran small webcaster. In it, founder Bill Goldsmith states that his station's royalty cost rose 300% on January 1. Many hobby webcasters pulled the plug on their stations. Internet radio platform Liveh365, host to many such stations, itself went out of business in March.
For small webcasters hoping for a remedy, the appeal window will not provide it. Appeals are for Web IV participants only — that means companies which undertook the expense and effort to litigate for royalty rate outcomes. No advocacy group for small webcasters existed, or, at least, at sufficient scale to afford the expensive participation process.
As David Oxenford succinctly explains about the appeals court: "It is focused on what was argued at trial, rather than what was not."