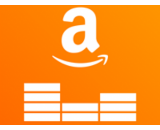 New research from Cowen explores the current state of the streaming music industry and gave forecasts for its future. Spotify and Amazon emerged as two of the top brands to watch.
First, the data predicted a compound annual growth rate of 4% for the 2016-2021 period, with on-demand music services expected to double revenue and secure a 40% share of the industry by 2021. The research report pegged Spotify as the leading on-demand service, but it noted that it will be facing more competition as Apple Music, Pandora, and Amazon beef up their offerings.
Apple Music is netting exclusive releases and has already secured 15 million paying subscribers in its first year. Pandora is expected to be joining the on-demand fray later this year. The inclusion of Amazon's Prime Music is intriguing, and the Cowen research cites it as a dark horse contender in the field.
In a Cowen proprietary survey, 16% of respondents said they listened to music via Prime in May. That was the top streaming service; satellite radio took the biggest share at 22%. Paid Spotify subscriptions got 7% of responses, followed closely by Apple Music at 6%. Google Play Music's paid tier and the PandoraOne subscription each had 4%. Prime is noticeably popular among the over-35 age groups, which many streaming services have not successfully courted. "Given the increasing competitiveness within the on-demand streaming industry, focusing or 'owning' a specific niche, like a particular age group, may not be a bad strategy," the Cowen analysts said.
Amazon's strategy for Prime Music is still hazy. Rumors first emerged in January that it would spin out the streaming music platform into a standalone subscription, and this summer the company seems to have laid the groundwork for such a launch.