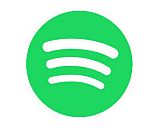 Spotify has been putting up big numbers in recent months as it grows a subscriber base. Now, sources say that the streaming service reportedly has expanded to about 37 million paying subscribers. The company has not confirmed that number, but given its recent rates of listener acquisition, the reports aren't much of a surprise.
Spotify closed out 2015 with 89 million active users, including about 28 million paying accounts. In March, the company announced hitting 30 million subscribers. In June, the figure was 100 million active users. Spiking up another couple million for the subscriber count falls in line with that growth.
It's worth noting that one of Spotify's drivers of audience growth are introductory deals, where it offers essentially a three-month trial of the paid service for just 99 cents. Music Business Worldwide said that with the usual churn rate of the current promotion, the paying subscriber count is probably closer to 35 or 36 million. Mark Mulligan of MIDiA Research also observed that the success of those occasional promotions at Spotify are a sign that the $9.99 per-month price point is too high for the average consumer.