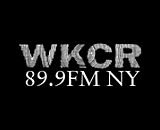 WKCR 89.9, the unique and distinctive radio station affiliated with Columbia University, suspended its online simulcast at the start of the year. A note posted to the station's website simply that as of Jan. 1, it is unable to continue the online broadcasts. "We are in the process of renegotiating the contract that allows us to legally stream our content over the Internet and will update you as soon as possible," the missive said. WKCR's director of broadcasting and operations, Philip Mascinatonio, made a brief statement to the media on the radio silence. "We are currently reassessing our approach to streaming audio," he said. "We regret the disruption of service to our online listeners and will provide an update in the near future. We hope to resume streaming soon."
A representative from Columbia told The New York Times that the online shutdown was not due to the recent Copyright Royalty Board decision, which set new rates for non-interactive streams and has caused concern, uncertainty, and shutdowns among the ranks of smaller webcasters. Instead, the rep said the issue was in contractual terms with the station's provider.
Listeners, especially those outside of New York who cannot access the station on its FM or HD channel, have taken to social media to express their distress about the outage. WKCR is famous for its deep approach to niche programming, especially in classical and jazz. The station is widely beloved for its extensive radio documentaries,some of them lasting for days, celebrating composers and performers on birthdays, anniversaries, and passings. Scheduled for this month are memorials to Pierre Boulez (who died), Max Roach (birthday), and jazz pianist Paul Bley (also died). For many years WKCR has run a celebrated Bach Festival each December.
Unique programming has earned the station a far-flung audience of listeners and financial supporters. Outside of New York City, those listeners feel a mix of loss and anger. "I thought when we make our contribution of support late last year that it was for station improvements, not loss of our listening ability," one fan commented on a recent WKCR Facebook post. "We've financially supported the Jazz on WKCR for many years and this was a definite slap in response to our doing so."